Sea bass roasted with rosemary and lemon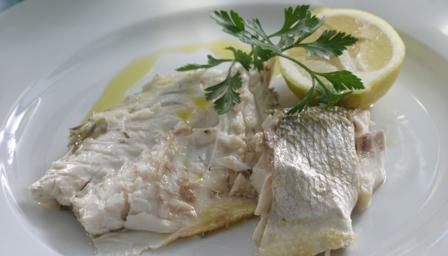 Preparation method
Clean and scale (but don't fillet) the sea bass. Preheat the oven to 400F/200C/Gas 6.

Make three diagonal slashes in the flesh of the sea bass on both sides of the fish, going right down to the bone (but not cutting through the bone).

Insert rosemary sprigs into the slashes and the belly cavity of the fish. Let it hang out a bit, as it will singe slightly, giving an extra flavour to the dish.

Place the fish in a roasting tray and sprinkle with sea salt. Drizzle with olive oil then rub the olive oil and sea salt into the skin of the fish.

Place the fish in the preheated oven and roast uncovered for 30-35 minutes. The flesh should be white, the skin crisp.

Carefully remove the fish fillets with a spoon.

Serve with a squeeze of lemon and a drizzle of extra virgin olive oil.
By
Less than 30 mins

preparation time
10 to 30 mins

cooking time
Serves 2
Quick recipe finder
Type the ingredients you want to use, then click Go. For better results you can use quotation marks around phrases (e.g. "chicken breast"). Alternatively you can search by chef, programme, cuisine, diet, or dish (e.g. Lasagne).
Advanced search options