Sausage, pumpkin and sage casserole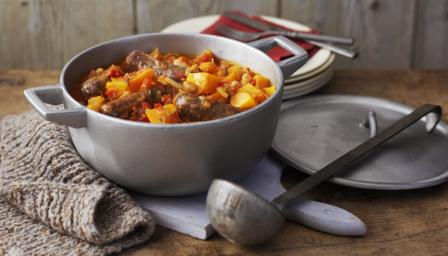 This comforting sausage casserole is the perfect Bonfire night recipe to warm you up on a sparkling night.
Preparation method
Preheat the oven to 180C/350F/Gas 4.

Heat half the butter in a large casserole over a medium heat and fry the sausages for 4-5 minutes, or until golden-brown all over.

Add the remaining butter, onion and shallots and fry for three minutes, or until softened. Add the garlic and sage leaves and cook for a further three minutes, stirring well.

Add the pumpkin and stir the mixture until well combined. Increase the heat to high and add the white wine vinegar. Continue to cook until most of the liquid has evaporated.

Add the sugar, tomatoes, cannellini beans and stock and season, to taste, with salt and freshly ground black pepper.

Bring the mixture to the boil, then transfer the casserole to the oven for one hour, or until the sausages are cooked through and the pumpkin is tender.

To serve, ladle the casserole into two large bowl and sprinkle with the flatleaf parsley.
By
Less than 30 mins

preparation time
1 to 2 hours

cooking time
Serves 4
Quick recipe finder
Type the ingredients you want to use, then click Go. For better results you can use quotation marks around phrases (e.g. "chicken breast"). Alternatively you can search by chef, programme, cuisine, diet, or dish (e.g. Lasagne).
Advanced search options
This recipe is from...
Next on
10:00am Saturday 25 May
James Martin is joined by top chef Tom Kitchin for the cooking show.