Salmon ceviche with fennel salad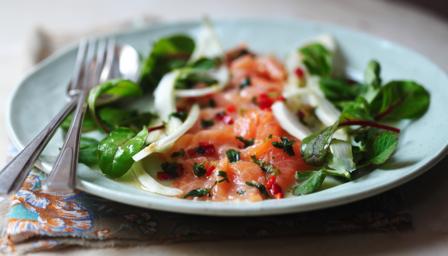 This wonderfully elegant dish is packed with flavour and makes a super starter for dinner parties.
Ingredients
For the ceviche

For the salad
Preparation method
For the ceviche, lightly sprinkle the salmon fillet with rock salt. Transfer to the fridge and leave for 20 minutes.

Remove the salmon from the fridge, carefully wash off all the salt and pat it dry.

In a small bowl, mix the chillies, grapefruit juice, lime zest and juice together and add the sugar. Add the coriander at the last minute and toss to combine.

Slice the salmon at an angle - each piece needs to be about 2-3mm thick.

Lay four slices evenly in a straight line onto each serving plate.

Spoon all but two tablespoons of the ceviche dressing over the salmon. Set aside for about 30 minutes.

For the salad, soak the sliced fennel in iced water for 2-3 minutes, before removing and draining. Mix with the salad leaves and the reserved two tablespoons of the ceviche dressing.

Place the fennel salad on top of the salmon and serve.
30 mins to 1 hour

preparation time
No cooking required

cooking time
Serves 4
Quick recipe finder
Type the ingredients you want to use, then click Go. For better results you can use quotation marks around phrases (e.g. "chicken breast"). Alternatively you can search by chef, programme, cuisine, diet, or dish (e.g. Lasagne).
Advanced search options
This recipe is from...
Next on
10:00am Saturday 25 May
James Martin is joined by chefs Alyn Williams and Tom Kitchin, and actor Danny Mays.