Roux family shepherd's pie with stir-fried cabbage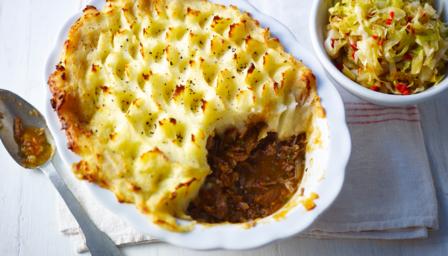 Roast lamb was a real favourite at home on a Sunday not because of the actual roast but because the leftover was always made into my sister's and my favourite, shepherd's pie.
Ingredients
For the shepherd's pie

For the fried cabbage
Preparation method
Preheat the oven to 180C/350F/Gas 4. Scrape all the meat off the lamb bone and put through a mincer with the carrot, celery, parsley, shallots and leftover gravy and fat from the roasting tin. If you haven't got a mincer then chop everything finely and mix together.

Add sweet roasted garlic cloves popped from their skins and the ketchup.

Press the mixture into an ovenproof dish. Mash together the cooked potatoes with butter to taste and a dash of milk, and top the meat with the potatoes. Use a fork to make a pretty design on top.

Cover the dish with foil and cook in the oven for 30 minutes. Then remove the foil and turn up the oven to 200C/400F/Gas 6 for a final 10 minutes so it's piping hot and lightly golden-brown on top.

For the stir-fried cabbage, heat the oil in a wok until hot, then stir fry the ingredients together for a few minutes until cooked, but so it keeps its colour and stays crunchy.

Serve the shepherd's pie hot with the cabbage piled alongside.
By
Less than 30 mins

preparation time
30 mins to 1 hour

cooking time
Serves 4
Quick recipe finder
Type the ingredients you want to use, then click Go. For better results you can use quotation marks around phrases (e.g. "chicken breast"). Alternatively you can search by chef, programme, cuisine, diet, or dish (e.g. Lasagne).
Advanced search options
This recipe is from...
Recipes from this episode