Homemade chocolate truffles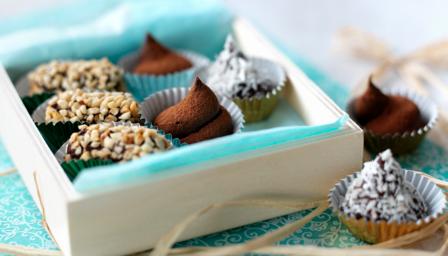 Try making these sensational chocolate truffles as an edible present - they're so delicious that no one will guess how quick and easy they are.
Preparation method
Chop the chocolate roughly. Then pulse in the food processor until it's the consistency of breadcrumbs.

Boil the cream. Turn on the food processor again and pour the cream very slowly onto the chocolate. It is a bit like making mayonnaise and you should soon have a perfectly smooth emulsion. If the mixture does split, process for a couple more minutes and it usually does the trick. Add the butter, bit by bit and beat until it has been incorporated. Pour the mixture into a bowl or tray and leave to cool for about 15 minutes in the fridge. When it has set to the consistency of butter icing, it is ready to be piped or spooned into truffle sized bits.

If piping, put mixture into a piping bag, and pipe blobs of mixture about the size of a cherry onto a tray covered with greaseproof paper, or cling film. Cool for at least two hours, then finish by rolling in cocoa powder, coconut or chopped toasted nuts.
Over 2 hours

preparation time
Less than 10 mins

cooking time
Quick recipe finder
Type the ingredients you want to use, then click Go. For better results you can use quotation marks around phrases (e.g. "chicken breast"). Alternatively you can search by chef, programme, cuisine, diet, or dish (e.g. Lasagne).
Advanced search options
This recipe is from...
Next on
10:00am Saturday 25 May
James Martin is joined by top chef Tom Kitchin for the cooking show.