Roast beef and mustard sandwiches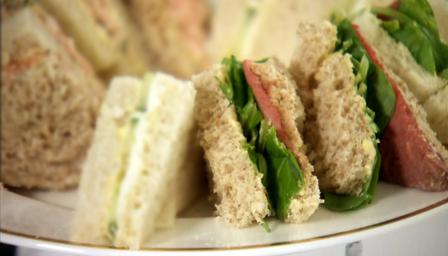 Rare roast beef is the key ingredient here, lifted with proper English mustard for a top teatime sandwich.
Preparation method
Slice the roast beef as thinly as possible.

Butter the slices of bread and spread some mustard over. Top with slices of beef before sandwiching. Cut into four triangles and serve.
Less than 30 mins

preparation time
No cooking required

cooking time
Serves 4-6
Quick recipe finder
Type the ingredients you want to use, then click Go. For better results you can use quotation marks around phrases (e.g. "chicken breast"). Alternatively you can search by chef, programme, cuisine, diet, or dish (e.g. Lasagne).
Advanced search options
This recipe is from...
Recipes from this episode