Pigeon breast with red wine gravy, roast leeks and wild mushrooms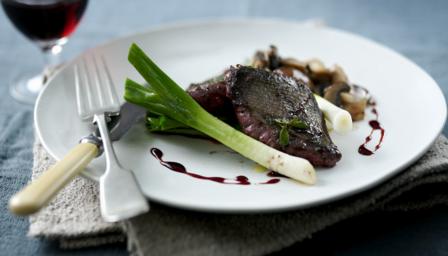 Pigeon breasts are a delicious introduction to game. Here they're served with wild mushrooms and a rich red wine gravy.
Ingredients
For the marinade

For the gravy

For the roasted leeks

For the wild mushrooms
Preparation method
Pre-heat the oven to 220C/425F/Gas 7.

Combine the garlic, thyme, black peppercorns and rapeseed oil in a small bowl. Using a sharp knife, score the pigeon breasts' skin lightly and rub in the marinade - leave for at least 20 minutes.

To make the gravy, combine the sugar and a few drops of water in a smallish, very clean saucepan and place over a high heat to caramelise. Once the sugar melts and has gone a dark golden brown, pour in the red wine. Add the thyme and the juniper berries. Cook the sauce until it is reduced by two thirds - this will take about 12-15 minutes. Season to taste, strain and keep warm.

Place the leeks in a saucepan of boiling, salted water and blanch for 10 seconds. With a pair of tongs, remove the leeks from the boiling water and plunge into a bowl of ice-cold water. When they have cooled, drain the leeks well.

Place the leeks in an ovenproof saucepan or baking sheet with a knob of butter. Transfer to the hot oven and cook until tender - this should take about 10-15 minutes.

Heat a griddle pan until hot. Season the pigeon breasts with salt and freshly ground pepper and place on the hot griddle pan. Cook for just a few minutes on each side until cooked to your liking, then remove from the heat and set aside in a warm place for at least five minutes.

For the mushrooms, heat a small frying pan. When hot, add the rapeseed oil and fry the garlic until golden brown. Add the sliced mushrooms and cook until softened. Be careful - the wood-ear mushrooms can pop and splutter quite ferociously.

Serve the pigeon with the leeks, mushrooms, and a drizzle of the red wine gravy.
By
30 mins to 1 hour

preparation time
10 to 30 mins

cooking time
Serves 4
Quick recipe finder
Type the ingredients you want to use, then click Go. For better results you can use quotation marks around phrases (e.g. "chicken breast"). Alternatively you can search by chef, programme, cuisine, diet, or dish (e.g. Lasagne).
Advanced search options