Prawns with garlic butter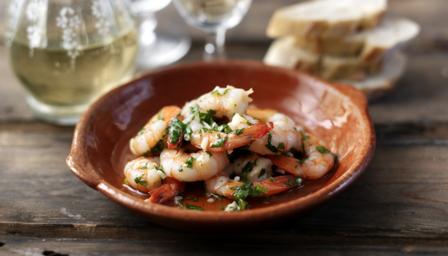 This simple recipe for prawns in a garlicky sauce makes a delicious addition to a tapas spread - just add lots of crusty bread.
Ingredients
Preparation method
In a wok or a large pan heat the oil and butter. Add the prawns and garlic and stir well.

Stir fry until the prawns are pink (about 4-5 minutes).

Season with salt and freshly ground black pepper and scatter the chopped parsley over. Serve at once.
Less than 30 mins

preparation time
Less than 10 mins

cooking time
Serves 2-3
Quick recipe finder
Type the ingredients you want to use, then click Go. For better results you can use quotation marks around phrases (e.g. "chicken breast"). Alternatively you can search by chef, programme, cuisine, diet, or dish (e.g. Lasagne).
Advanced search options