Pork meatballs with anchovies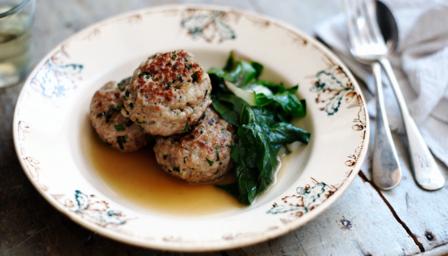 No one will guess these meatballs contain anchovies - they are deeply savoury with a lift of lemon zest and herbs.
Preparation method
Preheat the oven to 200C/400F/Gas 6.

Mix together the pork mince and breadcrumbs in a mixing bowl with the lemon zest and parmesan. Add the herbs and the anchovies, season with a little salt then more generously with freshly ground black pepper.

Using your hands, mix together well and then form the mixture into 6-8 large patties.

Heat the oil in a large frying pan, then fry the patties until brown on both sides. Place in a shallow ovenproof dish and cover with enough stock to come halfway up the pork patties. Cook in the oven for 20 minutes. They will have crisp tops but be deliciously moist underneath.

Serve them in a shallow bowl with some steamed Swiss chard with some of the stock they were cooked in.
By
Less than 30 mins

preparation time
10 to 30 mins

cooking time
Serves 3-4
Quick recipe finder
Type the ingredients you want to use, then click Go. For better results you can use quotation marks around phrases (e.g. "chicken breast"). Alternatively you can search by chef, programme, cuisine, diet, or dish (e.g. Lasagne).
Advanced search options
This recipe is from...
Recipes from this episode
Next on
12:20pm Today
Food writer Nigel Slater creates simple yet delicious meals using everyday ingredients.