Pork sausages with pineapple salsa and rocket salad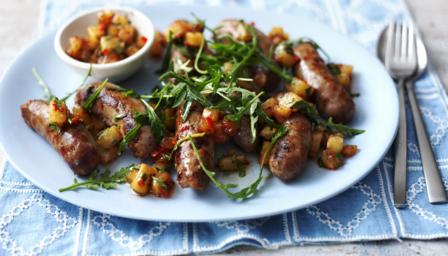 Ingredients
For the sausages and salsa

For the rocket salad with lemon vinaigrette
Preparation method
For the sausages and salsa, preheat the oven to 180C/375F/Gas 5.

Place the pork sausages in a baking tray and roast for 25-30 minutes, or until cooked through.

Meanwhile, place a frying pan onto a medium heat and add the sugar. As soon as the sugar starts to melt and is nearly caramelised, add the diced pineapple.

Cook the pineapple, stirring every minute for 4-5 minutes, or until lightly caramelised.

Tip the pineapple into a medium bowl and add the chilli, sambal oelek, lime juice and coriander. Mix together and add salt, to taste.

To serve, whisk together the lemon and olive oil in a small bowl and tip the rocket into a salad bowl. Dress the salad with the lemon and olive oil and serve it with the sausages and the salsa.
Less than 30 mins

preparation time
30 mins to 1 hour

cooking time
Serves 4
Quick recipe finder
Type the ingredients you want to use, then click Go. For better results you can use quotation marks around phrases (e.g. "chicken breast"). Alternatively you can search by chef, programme, cuisine, diet, or dish (e.g. Lasagne).
Advanced search options
This recipe is from...
Recipes from this episode
Next on
8:30am Sunday 26 May
James Martin takes a look back at some of his favourite recipes and best moments.