Piri-piri prawns and harissa couscous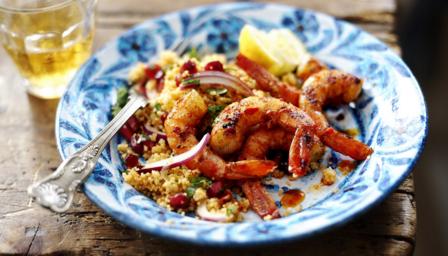 Note: If the baharat spice mix is unavailable, make your own blend of black pepper, paprika, ground cumin, ground coriander, freshly grated nutmeg and ground cinnamon and keep the unused spice blend in an airtight jar.
Ingredients
For the piri-piri prawns

For the couscous

200g/7oz wholegrain couscous

400ml/14fl oz boiling water

1 tsp harissa

1 tbsp pomegranate molasses

1 tsp baharat spice mix (available from Middle Eastern stores and some supermarkets)

½ lemon, juice only

1 red onion, finely sliced

1 pomegranate, fleshy seeds only

1 small bunch coriander, roughly chopped

1 lemon, quartered, to serve
Preparation method
For the piri-piri prawns, place all the ingredients except the prawns into a food processor and blend until smooth.

Place the prawns on a plate and rub over the piri-piri sauce, reserving a little to garnish. Leave to marinate in the fridge for an hour.

Heat a griddle pan until hot and cook the prawns for 4-5 minutes on each side, depending on their size, until the prawns have turned pink and are cooked through.

For the couscous, place the couscous into a bowl, pour over the boiling water and stir with a fork to combine. Add the harissa, pomegranate molasses, baharat and lemon juice and stir once more. Cover with cling film and set aside for 3-4 minutes, until all the liquid has been absorbed into the couscous.

Remove the cling film and fluff up with a fork. Add the red onion, fleshy pomegranate seeds and coriander and mix well.

To serve, place three prawns onto each plate with a pile of couscous. Drizzle over the reserved piri-piri sauce and a squeeze of lemon.
By
30 mins to 1 hour

preparation time
10 to 30 mins

cooking time
4
Quick recipe finder
Type the ingredients you want to use, then click Go. For better results you can use quotation marks around phrases (e.g. "chicken breast"). Alternatively you can search by chef, programme, cuisine, diet, or dish (e.g. Lasagne).
Advanced search options
This recipe is from...
Next on
10:00am Saturday 25 May
James Martin is joined by chefs Alyn Williams and Tom Kitchin, and actor Danny Mays.