Patatas bravas with crispy John Dory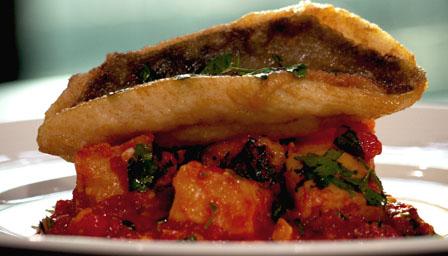 Combine an easy patatas bravas recipe with crispy-fried John Dory for a delicious Mediterranean supper.
Ingredients
For the patatas bravas

For the crispy John Dory

To serve
Preparation method
Preheat the oven to 225C/450F/Gas 7.

Heat the olive oil in a large roasting tin until very hot. Place the potatoes into the tin and shake them in the oil until covered. Season well with salt and freshly ground black pepper. Place into the oven for about 10 minutes, or until they begin to turn golden-brown.

Add the tomatoes, chillies and garlic and stir until well combined. Cook for another 25-35 minutes, or until the potatoes are tender to the point of a knife.

For the fish, dredge the fillets in the seasoned flour.

Fill a deep-fat fryer or a large, deep, heavy-bottomed pan two-thirds full with vegetable oil. Heat the oil to 180C/350F, or until a breadcrumb sizzles. (CAUTION: Hot oil can be dangerous. Don't leave unattended) Fry the fish fillets for two minutes, or until crisp and golden-brown. Remove from the pan with a slotted spoon and set aside to drain on kitchen paper.

Divide the potatoes among six individual serving plates, sprinkle with the chopped parsley and serve with a piece of fish on top of each.
By
Less than 30 mins

preparation time
30 mins to 1 hour

cooking time
Serves 6
Quick recipe finder
Type the ingredients you want to use, then click Go. For better results you can use quotation marks around phrases (e.g. "chicken breast"). Alternatively you can search by chef, programme, cuisine, diet, or dish (e.g. Lasagne).
Advanced search options
This recipe is from...
Recipes from this episode