Pasta with winter ratatouille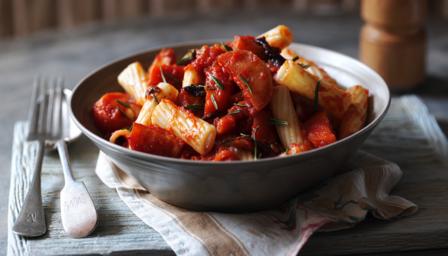 James Martin shows you a quick and simple way to serve this ever-popular dish.
Each serving provides 715kcal, 20g protein, 132g carbohydrate (of which 31g sugars), 9g fat (of which 1.5g saturates), 14g fibre and 1.1g salt.
Preparation method
Preheat the oven to 200C/400F/Gas 6.

Place all the vegetables and the garlic on an oven tray and drizzle with the olive oil and honey. Add the sprigs of rosemary and season well. Cook for about 20 minutes until all the vegetables are tender and browned.

While the vegetables are in the oven, cook the pasta according to packet instructions.

Remove vegetables from the oven, squeeze the cloves of roasted garlic over the vegetables and tip everything in a saucepan.

Add the passata, bring to the boil and allow to simmer gently for a minute or two.

Serve on top of the pasta and garnished with chopped rosemary.