Pasta with purple sprouting broccoli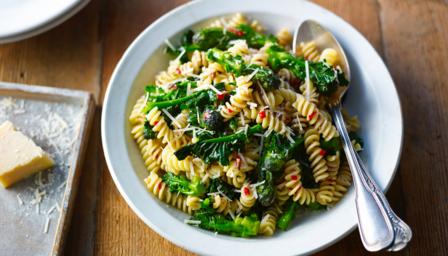 Purple sprouting broccoli can be a cheap and cheerful ingredient for early spring dinners and goes brilliantly with anchovy and chilli.
Preparation method
Put a large pan of water on to boil with a little salt.

Trim the outer leaves and woody stalks from the broccoli, you will lose at least half the vegetables by this process. Wash the good bits and chop into 1cm/½in sections. Cut the chilli in half lengthways and scrape out the seeds and the attached pith. Chop the chilli flesh, the garlic and the anchovies finely. In another large pan warm 4tbsp/60ml/2fl oz of olive oil over a medium flame and add the chilli, garlic and anchovies. Sweat these for a minute or so and add the broccoli, season with a little salt and pepper, then continue to cook gently whilst the pasta boils.

Drop the pasta in the boiling water and stir immediately. Cook until just tender with a little bit of resistance to the bite (al dente). This could take anything between 7 and 12 minutes depending on the type of pasta you choose (orecchiette is the slowest and incidentally the absolutely authentic type for this dish).

Grate 4tbsp of the cheese and reserve. After the pasta has been cooking for 5 minutes transfer a small ladle of the cooking water to the broccoli. Keeping over a high heat, add another 2 tbsp/30ml/1fl oz of oil and add the cheese. Toss and serve immediately.
By
Less than 30 mins

preparation time
10 to 30 mins

cooking time
Serves 4
Quick recipe finder
Type the ingredients you want to use, then click Go. For better results you can use quotation marks around phrases (e.g. "chicken breast"). Alternatively you can search by chef, programme, cuisine, diet, or dish (e.g. Lasagne).
Advanced search options