Neck of lamb with lemon and thyme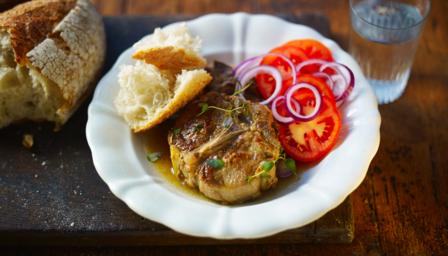 Neck of lamb is a cheaper cut of meat, but no less delicious if cooked long and slow with plenty of seasoning.
Preparation method
Heat the oil in a heavy-based saucepan. Add the lamb and allow it to sizzle and spit, turning occasionally until lightly browned all over.

Add the lemon juice, thyme, water or stock, a little salt and plenty of pepper. Bring to the boil then turn down the heat to a gentle simmer and place a lid on the pan. Cook gently, turning the meat over occasionally, for about 50 minutes, until the meat is tender.

Serve with plenty of good white bread and a perhaps a simple Greek style tomato and onion salad.
By
Less than 30 mins

preparation time
30 mins to 1 hour

cooking time
Serves 5-6
Quick recipe finder
Type the ingredients you want to use, then click Go. For better results you can use quotation marks around phrases (e.g. "chicken breast"). Alternatively you can search by chef, programme, cuisine, diet, or dish (e.g. Lasagne).
Advanced search options