Moroccan-style chicken casserole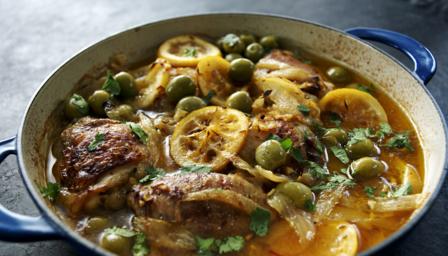 Make a double batch of Nigel's tasty chicken casserole - eat some and freeze the rest. See the top recipe tip below for advice on freezing.
Ingredients
For the spice paste

For the casserole
Preparation method
For the spice paste, crush the garlic cloves and sea salt with a pestle in a mortar. Add the smoked paprika, turmeric and cumin seeds and grind to a paste. Add just enough olive or groundnut oil to make the paste runny enough to pour, but thick enough to coat the chicken.

For the casserole, place the chicken thighs into a bowl, pour the spice paste over them and toss well to coat all of the meat. Cover with cling film and leave to marinate in the fridge for as long as time allows, overnight if possible.

Heat the olive oil in a large shallow pan, then cook the onions until softened. Add the chicken thighs and cook until coloured lightly on both sides. Add the lemon slices and pour in enough water to come halfway up the chicken pieces. Stir in the saffron, then season well, cover with a lid and simmer for about 25 minutes, until the chicken is cooked through and tender. Add the olives and fresh coriander and serve.
By
Overnight

preparation time
30 mins to 1 hour

cooking time
Serves 2-3
Quick recipe finder
Type the ingredients you want to use, then click Go. For better results you can use quotation marks around phrases (e.g. "chicken breast"). Alternatively you can search by chef, programme, cuisine, diet, or dish (e.g. Lasagne).
Advanced search options
This recipe is from...
Recipes from this episode
Next on
11:30am Tomorrow
Nigel Slater prepares simple, tasty meals from ingredients that are often overlooked.