Jumbo cheese and ham straws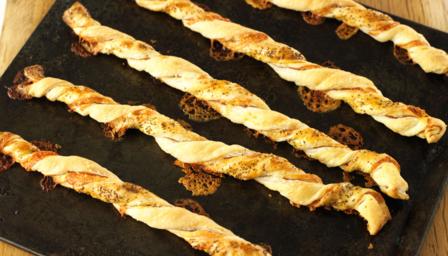 Ooh, if cheese straws weren't tasty enough, work in a few strips of savoury Parma ham to kick it up a level.
Preparation method
Preheat the oven to 200C/400F/Gas 6.

On a lightly floured work surface, roll out the puff pastry to a thin sheet.

Lay the strips of Parma ham onto one half of the pastry, then sprinkle over the gorgonzola.

Fold the pastry over the ham and gorgonzola, then roll out again to a thin sheet.

Trim the edges of the filled pastry, brush all over with the beaten egg and sprinkle over the celery seeds.

Cut the filled pastry into 1cm/½in strips.

Twist the strips and transfer each to a baking tray. Press the ends of the pastry twists down to secure them to the tray and prevent them from unravelling.

Bake in the oven for 20-25 minutes, or until golden-brown. Set aside to cool slightly, then serve.
Less than 30 mins

preparation time
10 to 30 mins

cooking time
18
Quick recipe finder
Type the ingredients you want to use, then click Go. For better results you can use quotation marks around phrases (e.g. "chicken breast"). Alternatively you can search by chef, programme, cuisine, diet, or dish (e.g. Lasagne).
Advanced search options
This recipe is from...
Recipes from this episode