Jerk snapper with rice and peas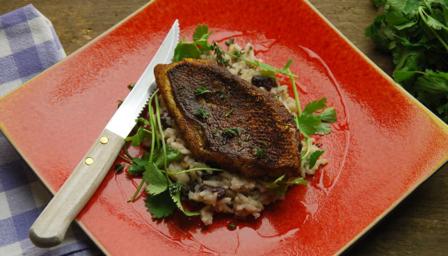 Quick and easy spiced fish combine with classic rice and peas in this Jamaican-style supper.
Ingredients
For the rice and peas

For the jerk snapper
Preparation method
For the rice and peas, heat the oil in a large lidded pan and fry the onion until soft but not coloured.

Add the rice and stir well, then add the coconut milk and 400ml/14fl oz water and bring to the boil.

Add the kidney beans and thyme, reduce the heat and simmer, covered, for about 20 minutes, or until the rice is cooked. Season to taste with salt and freshly ground black pepper.

For the jerk snapper heat the oil in a large pan over a medium heat. Rub the jerk seasoning into the fish and fry for two minutes on each side.

Serve the fish with the rice and peas alongside, garnished with coriander.
By
Less than 30 mins

preparation time
10 to 30 mins

cooking time
Serves 4
Quick recipe finder
Type the ingredients you want to use, then click Go. For better results you can use quotation marks around phrases (e.g. "chicken breast"). Alternatively you can search by chef, programme, cuisine, diet, or dish (e.g. Lasagne).
Advanced search options