How to make trout en papillote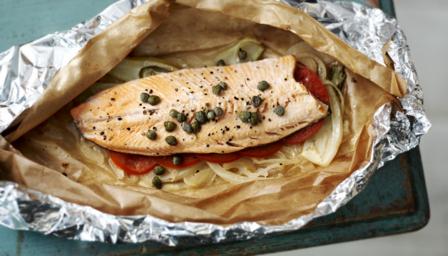 Trout en papillote is very quick and easy, and this method can be used with lots of other fish.
This meal is low calorie and provides 370 kcal, 34g protein, 2.5g carbohydrate (of which 1.8g sugars), 23g fat (of which 2.5g saturates), 1.2g fibre and 0.3g salt per portion.
Preparation method
Preheat the oven to 200C/400F/Gas 6.

Cut out two squares each of baking paper and silver foil approximately 40cm/16in square. Lay the baking paper on top of the foil.

Heat a frying pan and add the olive oil. Add the sliced fennel and onion, season with salt and freshly ground black pepper and fry for about 2-3 minutes, until softened.

Divide the fennel and onions between the two squares of baking paper, and layer the sliced tomatoes on top of each heap.

Place a trout fillet on top of each pile of tomatoes, onion and fennel. Drizzle over some olive oil, a squeeze of lemon juice, the chopped dill and season with salt and freshly ground black pepper. Sprinkle over a few capers, if using.

Fold the foil and paper over the fish and double-fold each edge to make a sealed parcel, leaving a gap at the top to pour in a few tablespoons of white wine. Pour in the wine, then fully seal. The parcel should not be too tight, as steam will puff it up in the oven.

Place the parcels on a baking tray and bake for 12-14 minutes, or until the fish is just opaque and cooked through.

Serve the parcels on each plate so they can be opened at the table.