Homemade tandoori chicken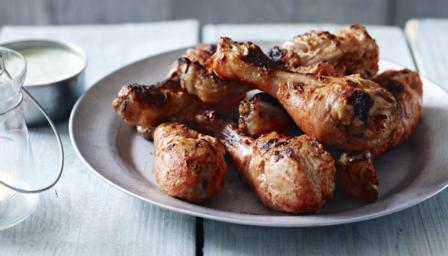 Tempt your taste buds with a hot and juicy tandoori chicken recipe, served with a cooling dip.
Ingredients
For the chicken

For the dip
Preparation method
Cut deep incisions into the chicken flesh with a small, sharp knife. Place the chicken into a bowl and sprinkle over the salt and the juice of two lemons, massaging into the chicken until well coated.

Whisk the yoghurt and tandoori spice mix in a bowl until well combined. Pour the marinade onto the chicken and massage into the flesh. Cover with clingfilm and chill in the fridge overnight.

Preheat the grill to high.

Lift the drumsticks from the tandoori mixture and gently shake off any excess. Place a wire rack over a roasting tin and lay the drumsticks upon it. Grill for 20 minutes, turning regularly, or until richly burnished and the chicken is cooked through. Add more lemon juice to taste.

For the dip, place all of the ingredients into a food processor and blend until smooth. Serve alongside the chicken drumsticks.
By
Overnight

preparation time
30 mins to 1 hour

cooking time
Serves 4
Quick recipe finder
Type the ingredients you want to use, then click Go. For better results you can use quotation marks around phrases (e.g. "chicken breast"). Alternatively you can search by chef, programme, cuisine, diet, or dish (e.g. Lasagne).
Advanced search options
This recipe is from...
Recipes from this episode