Healthy spaghetti Bolognese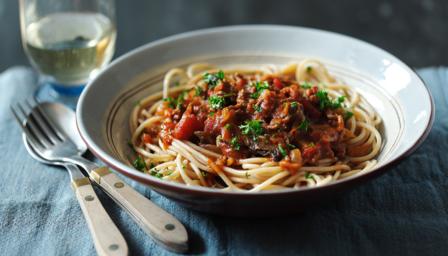 Use lean mince (about 4% fat or less) and wholemeal pasta to enjoy your favourite Bolognese without guilt.
Preparation method
Heat the olive oil in a large saucepan over a medium heat. Add the mince and the onion and fry for five minutes, stirring occasionally, until the mince is browned and the onions softened.

Add mushrooms and carrot, cook for around one minute, then add tinned tomatoes, vegetable stock, tomato purée, Worcestershire sauce and freshly ground black pepper. Stir well and bring to the boil, then reduce the heat to simmer for 15-20 minutes, until the sauce has thickened.

Place the wholemeal spaghetti in a deep saucepan full of salted boiling water and cook according to packet instructions, then drain.

To serve, divide the cooked spaghetti between four dishes, spoon equal portions of Bolognese sauce over each and sprinkle with parsley.
Less than 30 mins

preparation time
30 mins to 1 hour

cooking time
4
Quick recipe finder
Type the ingredients you want to use, then click Go. For better results you can use quotation marks around phrases (e.g. "chicken breast"). Alternatively you can search by chef, programme, cuisine, diet, or dish (e.g. Lasagne).
Advanced search options