Hazelnut butter grilled scallops with salad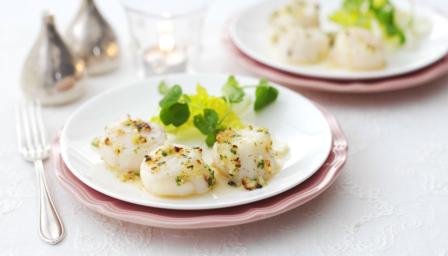 These scallops, delicately flavoured with fresh herbs, lemon zest and rich hazelnuts, take less than ten minutes to cook.
Ingredients
For the scallops

For the salad
Preparation method
For the scallops, heat a frying pan until warm, add the olive oil and shallot and fry gently until softened but not coloured.

Place the butter into a bowl and add the cooked shallot, along with all the remaining scallop ingredients, except the scallops. Season, to taste, with salt and freshly ground black pepper and mix well.

Preheat the grill to high.

Place the scallops onto a grill tray and top each scallop with a spoonful of the hazelnut butter. Place under the grill for 3-4 minutes, or until just cooked through. Remove from the grill and set aside to rest for one minute.

For the salad, whisk the mustard, vinegar and oil together in a bowl. Place the lettuce leaves and pea shoots into a bowl, drizzle over the dressing and stir to coat.

To serve, place three scallops onto each of 2 serving plates and serve with a pile of salad.
By
Less than 30 mins

preparation time
10 to 30 mins

cooking time
Serves 2
Quick recipe finder
Type the ingredients you want to use, then click Go. For better results you can use quotation marks around phrases (e.g. "chicken breast"). Alternatively you can search by chef, programme, cuisine, diet, or dish (e.g. Lasagne).
Advanced search options
This recipe is from...
Next on
10:00am Saturday 25 May
James Martin is joined by chefs Alyn Williams and Tom Kitchin, and actor Danny Mays.