Haggis, clapshot and whisky sauce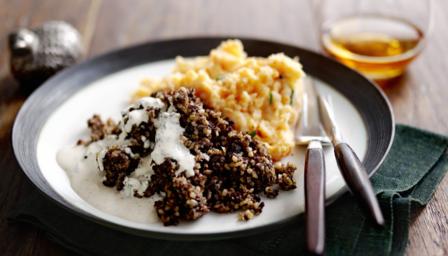 Celebrate Burns Night with The Hairy Bikers' recipe of haggis, neeps, tatties and whisky sauce.
Ingredients
For the clapshot

For the whisky sauce
Preparation method
Preheat the oven to 180C/350F/Gas 4.

Wrap the haggis tightly in aluminium foil and place onto a baking tray. Bake in the oven for 45 minutes to one hour, or until cooked through.

Meanwhile, for the clapshot, boil the potatoes and swede in separate saucepans of salted water for 15-18 minutes, or until tender. Drain well. Add the drained swede to the drained potatoes and mash thoroughly. Add the butter and cream and mash again until smooth and well combined. Season, to taste, with salt and freshly ground white pepper. Stir in the tablespoon of chives. Set aside and keep warm.

For the whisky sauce, heat the double cream in a pan over a medium heat. Add the wholegrain mustard, Dijon mustard and whisky and stir to combine. Increase the heat until the mixture is simmering and continue to cook for 1-2 minutes.

Remove the pan from the heat and season, to taste, with salt and freshly ground white pepper. Stir in the tablespoon of chives, then whisk in the lemon juice.

To serve, divide the clapshot equally among four serving plates. Place a spoonful of steamed haggis alongside each. Spoon over the warm whisky sauce.
Less than 30 mins

preparation time
1 to 2 hours

cooking time
Serves 4
Quick recipe finder
Type the ingredients you want to use, then click Go. For better results you can use quotation marks around phrases (e.g. "chicken breast"). Alternatively you can search by chef, programme, cuisine, diet, or dish (e.g. Lasagne).
Advanced search options
This recipe is from...
Next on
3:45pm Tuesday 28 May
Restaurant diners must decide who has created the best taste of Worcestershire.