Fillet steak with morel mushroom and wine sauce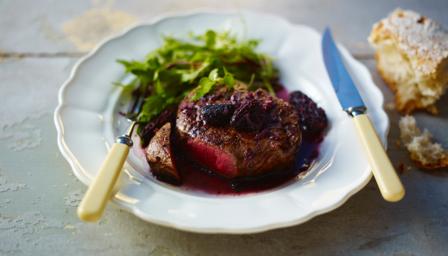 A steak this good doesn't need much with it, but to really gild the lily, add delicious morel mushrooms.
Ingredients
For the fillet steaks

For the mushroom sauce
Preparation method
Rub the beef fillets with salt and freshly ground black pepper and brush with two tablespoons of the oil. Heat a frying pan until smoking and add the steaks, frying for 3-4 minutes on both sides (for rare), or until cooked to your liking. Transfer to warm serving plates to rest.

Reduce the heat, add the remaining oil to the pan and fry the shallots and the garlic for 2-3 minutes, or until they begin to soften. Stir in the morels and fry for 1-2 minutes, then season with salt and freshly ground black pepper.

Pour in the wine and stir in the chopped thyme leaves, then leave to simmer for 5-6 minutes, or until the liquid has thickened.

Pour the mushroom and red wine sauce over the steaks and serve.
Less than 30 mins

preparation time
10 to 30 mins

cooking time
Serves 2
Quick recipe finder
Type the ingredients you want to use, then click Go. For better results you can use quotation marks around phrases (e.g. "chicken breast"). Alternatively you can search by chef, programme, cuisine, diet, or dish (e.g. Lasagne).
Advanced search options