Fennel sausages braised with lemony potatoes and bay leaves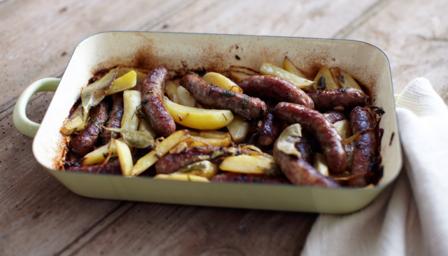 The perfect sausages for this dish are those from specialist Italian or Continental delicatessens, luganega, which come in one long length. If you are using ordinary sausages, add a teaspoon of fennel seeds to the onions when frying.
Ingredients
450g/1lb luganega sausages (available from specialist Italian or Continental grocers), or other nice meaty pork chipolatas

4 tbsp extra virgin olive oil

1 small onion, halved and thinly sliced

2 garlic cloves, thinly sliced

750g/1½lb small waxy potatoes, peeled and each cut into quarters

½ lemon, pared zest and juice only

4 fresh bay leaves

2 tbsp fresh parsley, chopped

salt and freshly ground black pepper

120ml/4fl oz water
Preparation method
Preheat the oven to 180C/350F/Gas 4. Twist the sausages into 7.5cm/3in lengths and separate them into individual sausages.

Heat one tablespoon of the oil in a 26cm/10in shallow flameproof casserole dish. Add the sausages and fry until nicely browned all over. Lift them onto a plate and set aside.

Add the onion, garlic and another tablespoon of oil to the casserole dish and fry until soft and lightly golden. Stir in the potatoes, browned sausages, lemon zest and juice, bay leaves, half the chopped parsley, ½ teaspoon salt and ten turns of the black pepper mill.

Pour over the rest of the oil along with the water, cover tightly with the lid and bake for 30-40 minutes until the potatoes are tender.

Remove the lemon zest and sprinkle with the rest of the parsley before serving.
Less than 30 mins

preparation time
30 mins to 1 hour

cooking time
Serves 4
Quick recipe finder
Type the ingredients you want to use, then click Go. For better results you can use quotation marks around phrases (e.g. "chicken breast"). Alternatively you can search by chef, programme, cuisine, diet, or dish (e.g. Lasagne).
Advanced search options