Creamy chicken, bacon and basil pasta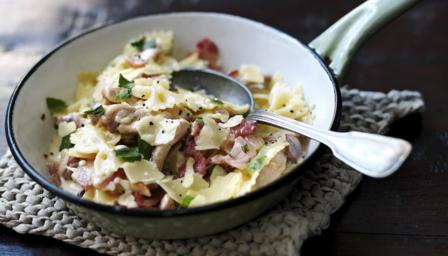 Looking for a quick supper? This easy chicken pasta recipe ticks all the boxes.
Preparation method
Cook the pasta according to packet instructions in a pan of salted boiling water, then drain.

Heat the olive oil in a frying pan, add the chicken strips and bacon and cook for 3-4 minutes, or until the chicken is golden-brown and cooked through.

Add the garlic and cook for one minute. Season, to taste, with salt and freshly ground black pepper, add the cream and warm through.

Add the creamy sauce to the cooked, drained pasta and stir well.

To serve, stir in the basil and cheddar spoon onto serving plates. Garnish with extra grated cheese and basil leaves.
By
Less than 30 mins

preparation time
10 to 30 mins

cooking time
Serves 4
Quick recipe finder
Type the ingredients you want to use, then click Go. For better results you can use quotation marks around phrases (e.g. "chicken breast"). Alternatively you can search by chef, programme, cuisine, diet, or dish (e.g. Lasagne).
Advanced search options