Cottage pie with dauphinoise potato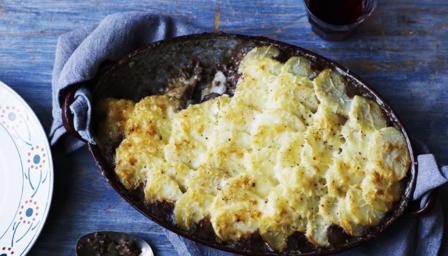 This is the perfect meal to serve when all the family are around as everyone can help themselves to as little or as much as they want. It's generous enough for second helpings and if by any chance there are leftovers, it tastes great the next day. It's so much smarter than the usual cottage pie, so is perfect for casual supper parties too.
Equipment and preparation: you will need a 2.4 litre/4 pint ovenproof shallow dish.
Preparation method
Heat the oil in a hot frying pan and add the beef. Stir over a high heat until golden-brown. Using a slotted spoon, remove the mince from the pan and set aside. Add the onions and celery to the pan and fry until beginning to soften. Return the beef to the pan.

Whisk the flour and wine together in a bowl to make a smooth paste, whisk in the stock and then add it to the pan with the Worcestershire sauce, sugar and thyme. Bring to the boil, stirring until thickened, then add the mushrooms and gravy browning if liked. Season with salt and pepper. Cover with a lid and simmer for 45 minutes, or until the mince is tender. Check the seasoning and add salt and pepper if necessary.

Cook the potato slices in boiling salted water for about 4-5 minutes - the potatoes need to be soft. Drain carefully into a colander and leave to cool a little. If the potatoes are too hard they will be waxy and the cream will run off them.

Tip the cooked meat into a 2.4 litre/4 pint ovenproof shallow dish. Preheat the oven to 220C/425F/Gas 7 (200C fan).

Arrange a layer of the blanched potato on top of the mince and pour over half of the cream. Arrange the remaining potato on top, seasoning between the layers. Pour over the remaining cream and sprinkle over the cheese.

Bake in the preheated oven for about 30 minutes, or until golden-brown and bubbling.