Chorizo and chickpea stew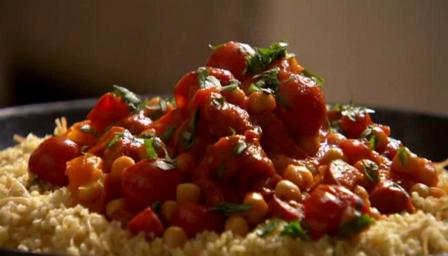 This is a full-on feast thrown together to enormous effect, simply with ingredients that you can more or less keep on permanent standby. And, like so many of these recipes, it's pretty well instant. After all, if you haven't got time to shop, it's hardly likely you'll be able to spend many hours at the cooker.
Preparation method
Warm the olive oil in a thick-bottomed pan on a medium heat. Fry the pasta bits in the oil for a minute, stirring, until they look like slightly scorched straws, then add the bulgur wheat and stir for another minute or two.

Stir in the cinnamon and the salt, then pour the water into the pan. Add the bay leaves and bring to a boil, then turn down to the lowest heat, add a lid, and leave for 15 minutes, or until all the water has been absorbed.

Put another thick-bottomed saucepan on a medium heat, add the chorizo pieces and fry until the orange oil runs out of them. Then add the sherry and let it bubble away.

Add the apricots (if using) along with the chickpeas (or beans) and canned tomatoes. Half-fill each empty tomato can with water and swill it out into the pan. Put on a high heat to bubble for about 5 minutes. Add salt and pepper to taste.

Serve with the bulgur wheat and, if there's any to hand, some chopped coriander.
By
Less than 30 mins

preparation time
10 to 30 mins

cooking time
Serves 4
Quick recipe finder
Type the ingredients you want to use, then click Go. For better results you can use quotation marks around phrases (e.g. "chicken breast"). Alternatively you can search by chef, programme, cuisine, diet, or dish (e.g. Lasagne).
Advanced search options