Chicken quesadillas and sweetcorn salsa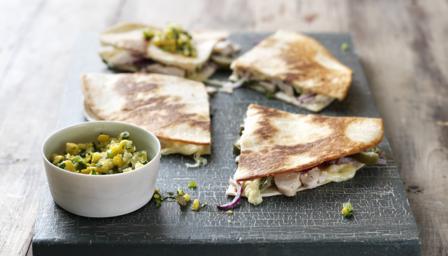 Use up leftover roast chicken in James Martin's family-friendly quesadillas.
Ingredients
For the quesadilla

For the salsa
Preparation method
For quesadilla, place four of the tortillas onto a board and cover each with the grated cheese.

Divide the chicken, red onion, jalapeno chillies and coriander equally over the cheese-covered tortillas.

Spread the sour cream onto one side of each of the remaining four tortillas and place sour cream-side down onto the filled tortillas.

Heat a frying pan and add the oil. Carefully place a quesadilla into the frying pan and cook over a medium heat for 3-4 minutes, until crisp and golden and the cheese filling is melting. Carefully turn the quesadilla over and cook on the other side for a further two minutes, or until crisp and golden. Remove from the pan and set aside to keep warm. Repeat with the remaining quesadillas.

Cut the quesadillas into quarters and serve fresh and hot.

For the salsa, place all of the salsa ingredients into a food processor and pulse to combine. Season, to taste, with salt and freshly ground black pepper.

To serve, arrange the quesadillas serving plate and place a bowl of salsa into the middle.
By
Less than 30 mins

preparation time
30 mins to 1 hour

cooking time
Serves 4
Quick recipe finder
Type the ingredients you want to use, then click Go. For better results you can use quotation marks around phrases (e.g. "chicken breast"). Alternatively you can search by chef, programme, cuisine, diet, or dish (e.g. Lasagne).
Advanced search options
This recipe is from...
Next on
10:00am Saturday 25 May
James Martin is joined by chefs Alyn Williams and Tom Kitchin, and actor Danny Mays.