Chicken, pesto and rocket sandwich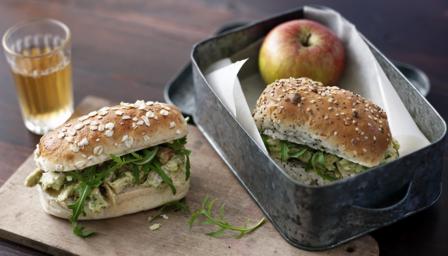 These sandwiches take no time to make and are great for a school packed lunch.
Preparation method
Mix the mayonnaise and pesto together in a bowl. Gently stir in the shredded chicken.

Fill the rolls with the chicken mixture and top with some rocket.
Less than 30 mins

preparation time
No cooking required

cooking time
Makes 6 sandwiches
Quick recipe finder
Type the ingredients you want to use, then click Go. For better results you can use quotation marks around phrases (e.g. "chicken breast"). Alternatively you can search by chef, programme, cuisine, diet, or dish (e.g. Lasagne).
Advanced search options