Chicken and apricot tagine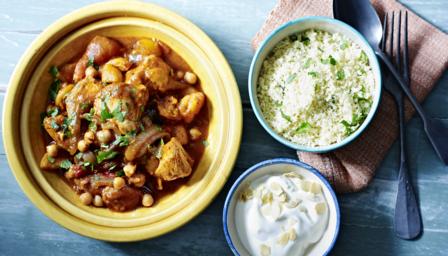 Invite a crowd round for a memorable chicken tagine recipe that lights up the dinner table.
Preparation method
Mix the chicken breast and thighs (or wings) with the harissa paste in a bowl until well combined. Cover with clingfilm and chill in the fridge for two hours.

Heat the vegetable oil in the base of a tagine dish, or heavy-based casserole dish. Fry the chicken for 2-3 minutes. Remove from the dish using a slotted spoon and set aside.

Fry the onion for five minutes, or until soft. Stir in the garlic and spices.

Add the meat back to the dish, along with the stock, apricots and tomatoes. Season with salt and freshly ground black pepper. Bring to the boil, cover with the lid and simmer for one hour. (Add the chickpeas after 45 minutes and stir until well combined.)

Stir in the mint and parsley at the end of cooking.

Serve alongside couscous and Greek-style yoghurt, topped with the almonds.
By
Less than 30 mins

preparation time
1 to 2 hours

cooking time
Serves 4
Quick recipe finder
Type the ingredients you want to use, then click Go. For better results you can use quotation marks around phrases (e.g. "chicken breast"). Alternatively you can search by chef, programme, cuisine, diet, or dish (e.g. Lasagne).
Advanced search options
This recipe is from...
Recipes from this episode