Cherry chocolate iced rice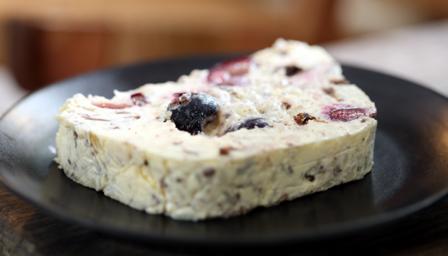 Frozen squares of rice pudding dotted with cherry and chocolate make a great alternative dessert over Christmas.
Preparation method
Add the rice, milk and sugar to a large pan. Scrape the seeds from the vanilla pod and add to the pan along with the pod itself.

Add 500ml/18fl oz water. Gradually bring to the boil, lower the heat and stir the rice to prevent it sticking to the bottom of the pan.

Simmer, stirring occasionally until the rice reaches a rice pudding consistency. This will take about half an hour – keep checking the rice to ensure the milk doesn't boil over or burn.

Remove the pan from the heat and chill it in a sink of water. Leave to cool.

Whip the cream in a large mixing bowl until it holds its shape on the whisk.

Remove the vanilla pod from the rice pan and gently fold in the whipped cream.

Fold the dark chocolate and cherries into the rice pudding.

Pour the mixture into a tray lined with cling film that will fit into the freezer. Freeze for approximately four hours.

Turn out of the tray, remove the cling film and slice to serve.
By
Over 2 hours

preparation time
30 mins to 1 hour

cooking time
Serves 5-6
Quick recipe finder
Type the ingredients you want to use, then click Go. For better results you can use quotation marks around phrases (e.g. "chicken breast"). Alternatively you can search by chef, programme, cuisine, diet, or dish (e.g. Lasagne).
Advanced search options
This recipe is from...
Recipes from this episode