Cauliflower cheese with salmon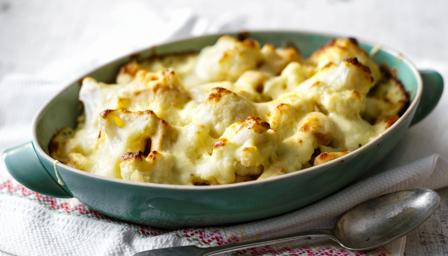 James Martin's recipe for cauliflower cheese, with its punchy béchamel sauce and flakes of cooked salmon, is a delicious use of leftovers. Skip the salmon for your Sunday dinner.
Preparation method
Preheat oven to 200C/400F/Gas 6.

Bring a large pan of salted water to the boil, then add the cauliflower and cook for two minutes.

Drain and place in a buttered ovenproof dish.

Place the butter and flour into a saucepan and heat to melt the butter.

Cook, stirring for one to two minutes until lightly golden.

Remove from the heat and gradually whisk in the milk to form a smooth sauce.

Return to the heat and simmer for two to three minutes.

Remove from the heat and beat in the egg yolks, mustard and Worcestershire sauce.

Season with salt and pepper and flake the salmon into the sauce, stirring carefully.

Pour over the cauliflower and top with the grated cheeses.

Place in the oven and cook for 10-15 minutes, until golden brown. Serve immediately.
By
Less than 30 mins

preparation time
30 mins to 1 hour

cooking time
Serves 4
Quick recipe finder
Type the ingredients you want to use, then click Go. For better results you can use quotation marks around phrases (e.g. "chicken breast"). Alternatively you can search by chef, programme, cuisine, diet, or dish (e.g. Lasagne).
Advanced search options
This recipe is from...
Next on
10:00am Saturday 25 May
James Martin is joined by top chef Tom Kitchin for the cooking show.