Cauliflower cheese cottage pie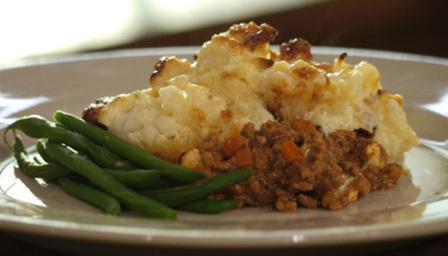 Cottage pie is a crowd pleaser, but here's how to add a twist and make it even better.
Ingredients
For the topping

To serve
Preparation method
Preheat the oven to 200C/400F/Gas 6.

Heat half of the oil in a large heavy-based frying pan over a high heat. Add the mince and fry until browned all over. Remove with a slotted spoon.

Add the remaining oil to the pan and gently fry the onion, carrot and garlic for eight minutes, or until the vegetables have softened.

Return the mince to the pan with the tomato purée and cook for a further 6-8 minutes.

Add the stock, bring the mixture to the boil, then reduce the heat and simmer for 40 minutes. Stir in the parsley, remove from the heat and set aside to cool.

Meanwhile for the topping, boil the potatoes until soft. Drain and mash in a saucepan with the butter.

Blanch the cauliflower florets for one minute. Drain, refresh in iced water and pat dry.

Beat together the crème frâiche, mustard, egg and cheese in a bowl. Fold in the cauliflower.

Spoon the mince into the baking dish and top with the mashed potato, then spoon over the cauliflower mixture and bake in the oven for 20 minutes.

Preheat the grill to high, then grill pie until the top is golden-brown and bubbling around the edges.
By
Less than 30 mins

preparation time
30 mins to 1 hour

cooking time
Serves 4
Quick recipe finder
Type the ingredients you want to use, then click Go. For better results you can use quotation marks around phrases (e.g. "chicken breast"). Alternatively you can search by chef, programme, cuisine, diet, or dish (e.g. Lasagne).
Advanced search options
This recipe is from...
Recipes from this episode