Buffalo wings with apple and celeriac slaw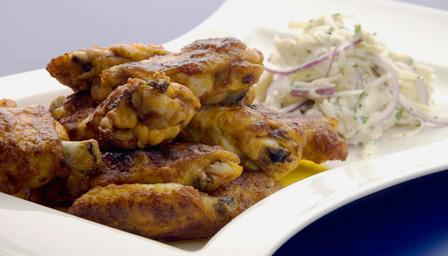 Hot and spicy buffalo wings are perfect for party, just follow a few simple steps in this recipe.
Ingredients
For the buffalo wings

For the slaw
Preparation method
For the marinade, mix all the ingredients in a bowl until well combined. Add the chicken wings, ensuring they are well coated in the marinade. Cover with clingfilm and chill in a fridge overnight.

Preheat the grill to medium.

Remove the wings from the fridge and place them onto a grill pan. Grill for 6-7 minutes on each side, basting with the marinade and juices as they cook.

Meanwhile, for the slaw, combine all the ingredients in a bowl and mix until well combined.

Once the chicken wings are cooked, serve straight away with the slaw and plenty of napkins.
By
Overnight

preparation time
10 to 30 mins

cooking time
Serves 4
Quick recipe finder
Type the ingredients you want to use, then click Go. For better results you can use quotation marks around phrases (e.g. "chicken breast"). Alternatively you can search by chef, programme, cuisine, diet, or dish (e.g. Lasagne).
Advanced search options
This recipe is from...
Recipes from this episode