Braised Savoy cabbage with bacon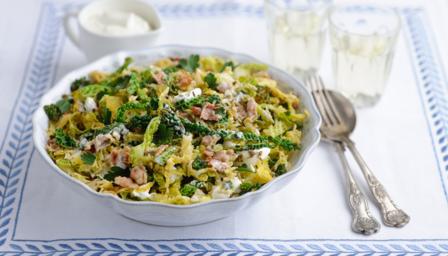 The humble cabbage is elevated to new heights of deliciousness - cooked in wine and cream with salty bacon.
Preparation method
Melt the butter in a large pan. Add the bacon and cook for 3-4 minutes.

Add the cabbage and mix all together. Add the wine and season well. Cover and cook gently for 10 minutes until the cabbage is tender.

Stir in the fennel seeds, parsley and crème fraîche and serve.
Less than 30 mins

preparation time
10 to 30 mins

cooking time
Serves 6
Quick recipe finder
Type the ingredients you want to use, then click Go. For better results you can use quotation marks around phrases (e.g. "chicken breast"). Alternatively you can search by chef, programme, cuisine, diet, or dish (e.g. Lasagne).
Advanced search options