Black pudding sausage roll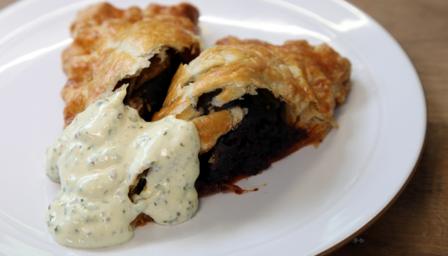 If you've never tried black pudding or you want to persuade someone to give it a go, this fantastic dish is a great place to start. The cream and mustard sauce would add a touch of luxury to any sausage supper.
Ingredients
For the sausage roll

For the sauce
Preparation method
Preheat your oven to 200C/400F/Gas 6.

Roughly chop the onion and cook in a pan with butter, thyme and a bay leaf on a very low heat. This will help develop a lovely deep sweetness, so let them caramelise for a good 15-20 minutes.

Roll out the puff pastry to 25cm x 20cm/10in x 8in sheet and 5mm/¼in thick on a floured surface. Lay a bed of the onions in the centre lengthways, roughly the same shape as the black pudding, place the sausage on top, and then any remaining onions on top again.

Now egg wash the outline of the whole pastry sheet and simply fold one side over the other and crimp the edges. Neatness isn't a priority; just make sure you form a seal. Then it's in to the oven for 20 minutes.

In the meantime prepare this wonderfully quick mustard sauce by heating up the cream in a saucepan and little by little add both mustards testing it as you go till it suits your taste. Finally finish off with some chopped parsley and trickle it over the black pudding sausage roll when it emerges from the oven.
By
Less than 30 mins

preparation time
10 to 30 mins

cooking time
Makes 1 large sausage roll
Quick recipe finder
Type the ingredients you want to use, then click Go. For better results you can use quotation marks around phrases (e.g. "chicken breast"). Alternatively you can search by chef, programme, cuisine, diet, or dish (e.g. Lasagne).
Advanced search options
This recipe is from...
Recipes from this episode