Beetroot and ginger chutney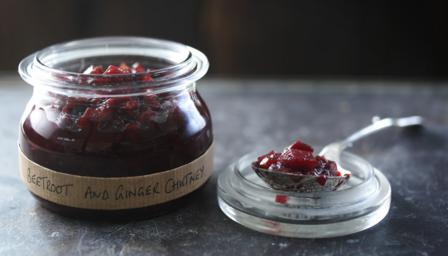 Spoon Nigella's beetroot chutney into pretty jars and give it as Christmas presents or keep it for yourself and eat with cheese or cold meats.
You will need 6 x 250ml/9oz sealable jars, with vinegar-proof lids, such as Kilner jars or re-usable pickle jars
Preparation method
Place the beetroot, apple and red onion into a large pan.

Add the fresh ginger, crystallised ginger, brown sugar, salt and ground allspice.

Add the vinegar and stir to mix well.

Bring to the boil, then turn down the heat and simmer for approximately one hour, stirring every now and again, until the beetroot pieces are tender.

Spoon into sterilised jars and seal. Keep refrigerated and use within four weeks.