Baked salmon with parmesan and parsley crust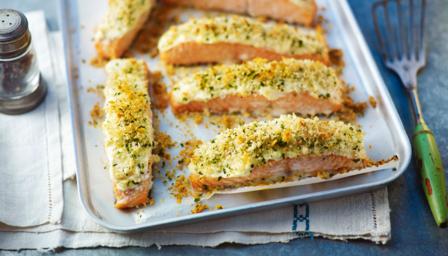 Mary Berry's fooproof recipe for easy baked salmon with luscious crunchy parmesan crust can be on the table in no time.
Preparation method
Preheat the oven to 200C/400F/Gas 6.

Season both sides of the salmon fillets and place on a greased baking sheet or roasting tin.

Mash the cream cheese with the garlic, salt and pepper and lemon rind.

Divide into six and spread on top of each salmon fillet.

Mix the breadcrumbs, parmesan and parsley in a small bowl and season.

Sprinkle on top of the cream cheese mixture and dust with paprika.

Bake in the oven for about 15 minutes. To tell when the salmon is done, it will have changed from translucent to an opaque pink.

Serve immediately, garnished with chopped parsley.
By
Less than 30 mins

preparation time
10 to 30 mins

cooking time
Serves 6
Quick recipe finder
Type the ingredients you want to use, then click Go. For better results you can use quotation marks around phrases (e.g. "chicken breast"). Alternatively you can search by chef, programme, cuisine, diet, or dish (e.g. Lasagne).
Advanced search options
This recipe is from...
Next on
10:00am Tomorrow
James Martin is joined by chefs Alyn Williams and Tom Kitchin, and actor Danny Mays.