Rose Gray and Ruth Rogers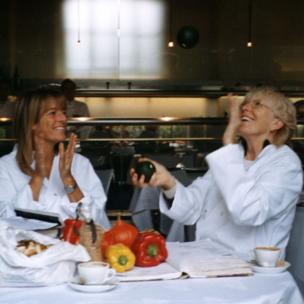 The partnership of Ruth Rogers and Rose Gray has gone from strength to strength since they set up the River Café in the late 1980s. Along the way, they have welcomed celebrities on both sides of the kitchen door.
Ruth and Rose opened the River Café as a simple place, serving lunch to Hammersmith locals. It soon became a big hit, attracting food lovers from across London. Their aim was to provide a little piece of stylish Italy on the banks of the Thames.
The restaurant has become famous and its reputation brings in equally well-known diners. It has spawned books of the River Café recipes from the menu, plus a cookery school. The restaurant was unfortunately closed for six months following a devastating fire in April 2008, but reopened later that year with a new look.
Ruth and Rose have also brought their love of Italian cuisine to TV and it was during the making of one programme that Jamie Oliver was discovered working in the kitchen. Another famous ex-member of the River Café staff is Hugh Fearnley-Whittingstall.
Rose passed away in February 2010 after a lengthy battle with cancer.