Raymond Blanc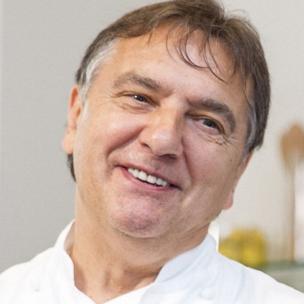 Raymond Blanc is a completely self-taught chef, inspired by his mother (fondly referred to as Maman Blanc). Raymond grew up in Besançon, near Dijon. He arrived in England in 1972 and became a waiter at the Rose Revived in Newbridge, Oxford. When the chef fell ill, Raymond took over, and in 1975, he was promoted to chef. He then worked all hours to save for his own restaurant; he opened Les Quat' Saisons in Oxford in 1977 and soon won a host of distinctions.
Raymond and his wife Jenny then opened a patisserie and bakery in Oxford, called Maison Blanc. In 1984, they relaunched Les Quat' Saisons as Le Manoir aux Quat' Saisons, relocating it to a sumptuous small country house in Great Milton in the process.
In the '90s, Raymond opened his eponymous cookery school and the first of a series of Le Petit Blanc brasseries, which earned a Michelin star within a year. The chain, which has since been renamed Brasserie Blanc, now has branches all over the UK.
Raymond's remarkable contribution to the UK's culinary scene earned him an OBE from Her Majesty the Queen in 2007.
Image copyright: Adrian Houston