Diversity framework
We deliver on our Diversity Strategy through corporate BBC wide actions and via more local divisional action plans. The BBC's Diversity Centre provides specialist expertise and advice internally across all business functions to support the integration of diversity into BBC policies and processes and plays a key role in supporting and advising Executive and Divisional Boards.
Each BBC division has a senior board level Accountable Lead for diversity responsible for that department's diversity related action and compliance. Those leads work alongside the divisional diversity action group, driving the equality and diversity conversation locally. The division identifies their local equality and diversity priorities under our strategic equality and diversity objectives and agrees a set of specific and measurable actions to make progress against these priorities.
Every division develops their own annual diversity action plan outlining their equality and diversity commitments that support our strategic equality and diversity objectives. Progress against our commitments is reported every 6 months to the Diversity Board in financial year quarters two and four (chaired by the BBC Director-General) and it monitors implementation and outcomes. Reporting to wider senior managers takes place on a regular basis. Examples of this information are set out in our supporting equality information. All divisional diversity action plans are annually reviewed during February and March in line with the financial and business planning year and are then published on the BBC's diversity website.
Additionally, we have specific performance measures for disability and access as set out in our equality objectives. BBC Access, chaired by the Chief Financial Officer, (who acts as the corporate Disability Equality Champion), drives progress in relation to access issues including ensuring the accessibility of our internal and external facing technology and our working environment.
Internal context
Following the shocking revelations about child and sexual abuse at the BBC in the 1970s, there are a number of ways in which the BBC is considering BBC policy, practice and culture, in relation to child protection, bullying and harassment (including sexual harassment) and whistle blowing. The BBC is undertaking an independent review The Smith Review, which is being carried out by Dame Janet Smith. The BBC's HR department is also conducting a review (the Respect at Work Review) which will examine questions of respect, behaviour and culture at the BBC today including issues such as harassment (including sexual harassment) and bullying. They are all closely connected to our responsibilities under the equality duty and the BBC Charter and any recommended action will form part of our equality objectives in future. These have been reviewed and updated for this year and we will report progress in next year's and/ or future reports.
The BBC's editorial priorities are to deliver to our audiences:
The best journalism in the world
Ambitious original British drama and comedy
Inspiration and commitment in the fields of knowledge, music and culture
Outstanding services for children
Events that bring communities and the nation together
Delivering Quality First has been focused on delivering against these objectives in the light of the licence fee settlement and a 20% reduction in cost within the next six years. This large scale change programme is designed to fundamentally change the shape and scale of the BBC in the coming six years to make it fit for the future in an increasingly competitive market.
In these challenging times, the consideration of equality and diversity becomes even more important. Strong reach and share, high quality programming and high audience appreciation across all our output, TV, Radio and Online, are essential to the continued success of the BBC. Diversity is a creative opportunity that enhances the BBC?s originality and distinctiveness and drives innovation.
External context - public sector equality duty obligations
Throughout 2012, we have continued to meet our equality and diversity legal obligations. We have been working to ensure compliance and demonstrate our clear commitment to advancing equality and promoting diversity through measurable outcomes.
The public sector equality duty under the Equality Act 2010 requires the BBC to have due regard to:
Eliminate discrimination, harassment and victimisation
Advance equality of opportunity between people who share a protected characteristic and those who do not
Foster good relations between people who share a protected characteristic and those who do not.
The public sector equality duty applies to BBC functions operating within England, Wales and Scotland* except those relating to the provision of a content service as defined in s.32(7) Communications Act 2003. The Government applied the duty to the BBC in this way to ensure the BBC's editorial independence is not compromised. This means that the duty does not apply to activities such as commissioning, production, casting, editorial policy and scheduling.
*The Equality Act 2010 forms part of the law of England and Wales; Scotland (except for section 190 and Part 15) and only the following sections extend to Northern Ireland: section 82, section 105(3) and (4) and section 199. The Public Sector Equality duty, section 149, is part of the law of England, Wales and Scotland but not Northern Ireland (nor the Isle of Man and the Channel Islands).
Meeting our legislative responsibilities
Broad BBC policy on equality and diversity is driven not only by legislation but also by BBC Charter requirements, our Diversity Strategy commitments and general best practice. Our policy therefore applies to all of the BBC's nations and regions as One BBC.
Throughout 2012 we have continued to meet our legislative obligations under the Equality Act 2010 by:
1. Ensuring due regard is given to the development of strategies and policies under the Delivering Quality First strategy through equality analysis of proposals, including all restructures and reorganisations, and acting on the findings.
2. Sharing information with senior managers regularly on how we are considering ("giving due regard") to equality systematically across our functions. See our supporting information for more details.
3. Prioritising areas for action including large scale procurement.
4. Developing organisational capability in relation to giving due regard to the general duty and to conducting equality analyses.
5. Further developing current mechanisms to engage staff in key employment and organisational decision-making.
Communicating our legislative responsibilities
In 2012 we have worked proactively to raise awareness of the responsibilities and accountabilities connected to the legislative requirements of the Equality Act 2010 including:
Briefing divisional boards on the public sector equality duty and equality analysis and delivering tailored sessions on the same to:
Policy and Strategy
Project Management Office
Strategic Sourcing Team
BBC TV Licensing
Capita (TV Licensing)
Proximity (TV Licensing)
BBC Trust
Leading the industry
The BBC is proud to have led the Creative Diversity Network (CDN) for a second year until the end of 2012. The CDN is the industry partnership of the main broadcasters and various other media companies, including those from the independent sector which aims to promote diversity on and off air. (See also page 17-18.)
Visit the Creative Diversity Network website to find out about its membership and the work it is currently progressing. 
Giving our account
Below we chart the progress we have made against our five strategic equality and diversity objectives as set out in our strategy Everyone Has a Story: BBC Diversity strategy 2011-2015
We set out actions linked to each objective, making clear our activity over the coming year and responding to the specific requirement to set measurable equality objectives under the public sector equality duty where applicable: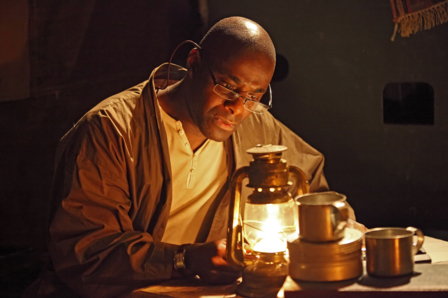 Paterson Joseph as Brutus in Julius Ceasar on BBC Four