BBC iWonder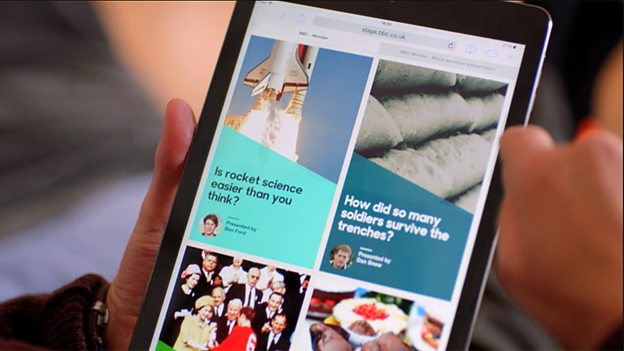 Find out more about BBC iWonder
BBC iWonder is the digital factual and educational brand from the BBC designed to explore different perspectives on thought-provoking questions sparked by everyday life, current events, seasons, anniversaries, BBC programmes and campaigns or social trends.
At the heart of iWonder is interactivity: an opportunity for audiences to 'lean forward' and actively explore a range of topics from Food and Natural History to Storytelling and Fashion. The BBC iWonder vision is to channel inspiration from across the world around us to spark a user's natural curiosity and establish a positive relationship with learning.
BBC iWonder has been built with a "mobile first" mentality using responsive design as a way to enable a fluid experience for users across multiple devices. Interactive content formats are a key feature of BBC iWonder.
iWonder is all about telling stories in fresh and innovative ways: iWonder Guides are authored by recognisable talent and experts in their field – people with something to say. Innovative timelines are rich with video and audio and provide compelling new sources of educational narratives for mainstream audiences.
Guides
Guides take a different approach to presenting content compared to traditional web articles or TV and radio programmes online. Guides are talent-led, have several defined steps and include engaging interactive activities. Guides organise video and audio, rich infographics, written summaries, and activities into stories that are compelling and populist yet still deliver a learning experience through interactivity and reflection.
They apply the underlying learning model of theory, practice and reflection, presenting entertaining content in easy-to-digest steps.
For reference, please view some of the current guides:
In addition, these Guides showcase the use of interactivity, video or animation:
Timelines
Timelines aim to tell the story of events through time using video, text and images. The timelines can be embedded into other areas of the BBC website. Audiences will eventually be able to navigate laterally through the timeline events themselves.
Audience
We want to appeal to adults of all ages and backgrounds who are positive about learning. Guides need to be bold and thought-provoking, visually compelling and surprising. We want to tap into people's curiosity, a natural, inexhaustible resource that's common to everyone.
For more information contact Executive Producer, Andrew Tomlinson, Executive Editor Chris Sizemore, or visit the Pitching and procurement page to find out how to work with the BBC.
Search
Can't find what you need? Search here.
Search the site
Can't find what you need? Search here