CBBC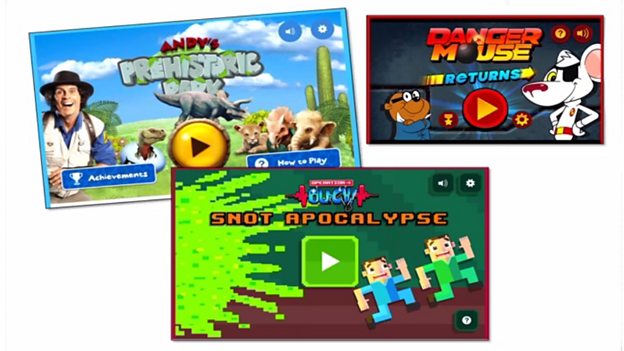 Watch a recording of the recent BBC Children's live-streamed briefing - how to work with us and win business for digital content
Our 'Big Digital Plan for Children', which is built around six key BBC Children's pillars:
Noisy content
How kids want it
Connect create and share
Whole BBC at their fingertips
Being a trusted guide
Reflecting and promoting the UK
Noisy content
Live from commission
We want our biggest brands that are loved and talked about by the audience, to come to life all year round. We'd like productions to consider themselves 'live from commission'. We want to create excitement among our fans and make CBBC the go-to destination for exclusive content.
Productions could consider how to:
Develop their proposition over time, in and outside of the trasnsmission window.
Generate a conversation and engagement with the audience throughout the production cycle. For example the Wolfblood Fan Club released a photo of the new Wolfblood script ahead of filming, along with a Blue Peter competition to win a chance to star in the upcoming series, generating hype and anticipation for the new series and reviving the brand and engaging the Wolfblood fans outside of transmission.
Pitch and run effective social media accounts, where applicable and suitable.
Year round experiences for priority brands
The audience has a year-round appetite for content from their favourite shows and characters. We want to support our digital priority brands with regular, strategic releases of: short-form, games and game updates, quizzes, votes and join-in content throughout the year.
Short-form
Short-form is one of the areas of growth on our digital platforms, helping shows achieve our 'live from commission' and 'break out of the bubble' ethos, as well as giving our biggest brands an all year round presence.
We are looking for:
The latest trend in short-form video techniques eg lip dubs, flashmobs etc such as these examples for the 4'O'Clock Club and Danger Mouse.
Strategic content plans of how, when and where content is to be published.
Topical and reactive content both brand related and standalone.
Content that taps into events, that can draw attention to and push our audiences to our brands.
Short-form content aimed at starting conversations, generating a buzz and getting people talking about our brands.
Productions to include short-form ideas in their early thinking and planning to shoot where possible during production.
Topical content
We know kids are eager for topical content that quickly becomes hot topics or social currency within their circle of friends. Topical content can be: newsworthy, fulfilling the audiences inherent curiosity or entertaining, shareable content related to real-world events, CBBC shows, titles and characters such as:
Exclusive access content that helps our audience feel included and part of the CBBC world.
LOL, cute, weird or WOW factor content that surprises and delights our audience.
Content that creates an emotional connection or response - challenging assumptions or opinions.
Aligning a CBBC brand with a topical event is particularly powerful, for example the Wolfblood costume competition in the build-up to Halloween.
Passion-led content
We need content that reflects kids real-lives and feeds their passions and interests. Audience's passions are enduring, while topical content provides us with big spikes in traffic, passion-led content provides deeper engagement.
We're interested in propositions that build on or feed one or some of the enduring passions of our audience with regular content across the year, a few examples include: football, music, animals, pets, robots, dinosaurs, space, art and crafts and many more.
Digital community
Kids want to feel part of the CBBC world and they are inherently creative. We want our digital portfolio to begin to better serve and enable that creativity and engage our audience in creative communities and digital experiences.
This could take the form of:
Solicits for sending in photos or drawings for a competition.
Joining in with dilemmas set by our key characters.
Or a more immersive creative activity that could be provided by digital tools or game experiences.
LIVE experiences
We want to use our digital platforms to create communities around events and make CBBC a destination for live excitement and exclusivity.
We have an opportunity to utilise our talent to bring the audience together, to generate a digital community around a key moment, event or 'appointment to view': enabling our audience to chat, share feelings and jokes about the unfolding action around events such as:
LIVE in Digital in Hull
Wolfblood new series
The Next Step finale
Find contact information and details of how to pitch to CBBC digital below.
How kids want it
iPlayer
Our audience are rapidly embracing the on-demand age so we're now viewing iPlayer as much of a destination as our linear channel. The BBC Children's iPlayer Kids app will blend content from across CBBC and CBeebies - introducing younger viewers to key CBBC brands.
Productions should consider a content release strategy which includes:
iPlayer previews – that build awareness or anticipation for both new brands and returning favourites.
iPlayer exclusives/shorts – that heighten awareness, get fans excited and give a taste of what is to come, whilst also being a piece of content in its own right. For example a pre-launch short-form trail released into iPlayer ahead of the linear transmission.
Website
Often the CBBC website audience are those who are invested in the CBBC shows. We are interested in ideas that can reach new digital audiences. Engaging those children who don't currently watch the linear channel: via compelling digital experiences, passion-led or topical content, providing them with the opportunity to then also discover the wealth of CBBC content, shows and characters.
We want the website to encapsulate a 'live', 'always on' atmosphere and be a platform that facilitates aconversation with our audience, through a range of content types and digital experiences: brand pages, articles, live pages, games, short-form video, join-in, quizzes and votes.
Apps
Apps play an important part in our audience digital media consumption.
This year we are:
Producing a BBC Children's iPlayer app - this will blend content from across CBBC and CBeebies and will serve as a way to introduce younger viewers to key CBBC brands and give older users who have their own device, a personal way to watch our content.
Updating the existing CBBC Gory Games play-along app to include series four later in the year.
Developing a concept around delivering our HTML5 games to our audience via an app platform.
Social Media
CBBC's social media presence is aimed at helping CBBC content 'break out of the bubble' by reaching families, those age 13 years + (who are still engaged in CBBC content) and adults helping them to relive their childhood.
CBBC has a small but growing social media presence with @CBBC and @CBBC_Hacker on Twitter and in 2016 we are investigating channel accounts on Facebook and Instagram.
We also intend to:
Identify key brands that skew older and merit own accounts
Focus activity around channel-wide events eg Storytelling, CBBC Live
Include social into the commissioning and contracting process
Encourage more 'live from commission' content especially for an older audience - and will create an agreed content submission processes for in house and indie titles
We're looking for high-quality short-form content to help generate awareness of CBBC and promote our brands with families. The best themes for shareable social clips are: humour, emotion, action, surprise, celebration, wondrous 'wow' moments, nostalgia (especially around children's TV), as well as well-constructed memes and GIFs.
YouTube
The CBBC YouTube channel which has been growing fast since launch. We consider YouTube to be primarily a marketing tool to draw audiences to our other services. We would like productions to consider YouTube proposals which:
Give audiences something valuable on the YouTube platform but have a role in driving audiences back to the BBC platforms.
Use our YouTube channel as a place to experiment with and try new things that we can't do on our own BBC platforms – whether for editorial or technological reasons.
myBBC
myBBC tools will help fuel our content and allow our audience to engage with it more.
Productions should consider that the BBC Children's audience will be able to follow their favourite brands, shows or topics: receive alerts when new content is released and a mixture of algorithmic and editorially curated recommendations, tailored to their individual passions and interests.
We want content experiences that take our audience on a journey, allow them to discover great new brands, content and experiences.
Find contact information and details of how to pitch to CBBC digital below.
Connect, create and share
Games
Games remain one of the most popular parts of CBBC's digital portfolio. Our values and distinctiveness means CBBC games need to entertain and challenge our audience, unlock their creativity, help them learn and develop. For example: the CBBC Technobabble – game maker or the CBeebies Go Jetters, Global Glitch game is a great example of soft learning cleverly hidden behind the fun for the younger CBeebies audience.
We are looking for:
Games that are inherently fun to play have great progression and playability, with a focus on retention. Proposals should consider how we can keep users engaged and coming back.
A variety of game types that appeal to our broad and varied audience and answers an audience need, such as Puzzles, Style Creation, Nurturing Games, Escape and Obstacles, Basic Strategy etc.
More light-touch interactions - innovative and inventive ways to present content using our existing tools and templates or a new proposition.
Storytelling
The BBC has a long held tradition of storytelling and we want to bring that into the digital era in an exciting and engaging way.
We are looking for ideas that use the properties of digital experiences (sharing, social interaction, linking) to tell the story and for those stories to reflect the increasingly digital lives that children are leading today across the UK. A few existing examples include
The Blue Peter storyteller game were kids can make their own animated stories, jokes and create scenes with the Blue Peter presenters and pets.
The Secret Life of Boys, an interactive Comedy Drama that allows viewers to discover additional content and hidden secrets online.
Find contact information and details of how to pitch to CBBC digital below.
The whole BBC at their fingertips
We are looking into ways in which we can utilise and curate the wealth of the wider BBC for kids. Give them access to shows and content they love from across the BBC like Great British Bake Off, Match of the Day, BBC Bitesize, Radio 1 and Big Blue Live – providing quality content curated for Kids and providing our older CBBC audience with journeys into the wider BBC.
Examples include:
CBBC's Dish Up which curated content from the wider BBC Dish Up campaign mixed this with a pinch of CBBC brands and presented this to kids in an appropriate and engaging way.
The CBBC Animaltatsic pilot curated content from the BBC Natural History Unit and tapped into our audiences' passion and interest for animals.
Find contact information and details of how to pitch to CBBC digital below.
Trusted guide
We want CBBC to act as a trusted guide for kids and their parents across the digital landscape and in the real world.
Childhood is an exciting time filled with many milestone moments and first experiences. We want CBBC to become a go-to destination for kids, tackling real life subjects and topics that resonate with our audience.
Examples: staying safe online, concerns about body image, bullying at school and Lifebabble, hosted by a select team of vloggers and tackling difficult and embarrassing issues with straight up advice and honest answers to awkward questions.
Find contact information and details of how to pitch to CBBC digital below.
First digital steps
We want BBC Children's to be a leading force in child safety for the industry. Through CBBC we want to help kids learn how to be safe online and to support them in taking their first digital steps. Providing honest, unbiased guidance on the good, and not so good, things that kids might find in the social space.
In order to support families we'll look to extend the Grown-ups support we offer to parents of older children – initially up to 12-years-old.
We will form partnerships with key players in the internet safety industry, and provide help and advice on how to stay safe in social spaces, while never encouraging kids to sign up for accounts before they are ready.
Find contact information and details of how to pitch to CBBC digital below.
Reflect and promote the UK
Our ambition is that every child sees someone like them in our content, that our content reflects and celebrates their lives, the lives of their community and helps them make sense of the world around them.
We would like productions to consider how you can help us deliver on this ambition through their choice of: talent, scripts, scenes, locations and subject matter?
We would be interested in receiving ideas for content that introduces our audience to a variety of similar and diverse characters, cultures, and experiences and celebrates the diverse totality of the UK, as well as real-world or digital events that unite children in Great Britain.
Some key examples include: My Life, anti-bullying and Horrible Histories.
Find contact information and details of how to pitch to CBBC digital below.
Contacts and how to pitch
If you are submitting a cross platform proposal please submit ideas to Mario Dubois via BBC Pitch.
For all other digital only related propositions or for further information about CBBC digital please email Mario.
Subscribe to the BBC Children's mailing list to receive quarterly commissioning updates.
CBBC digital tariffs
BBC short-form: £500 - £1500 per minute
CBBC games: £25,000 to £60,000
Please see the CBBC TV what we want page for information about CBBC TV commissioning.
Search
Can't find what you need? Search here.
Search the site
Can't find what you need? Search here