We're looking for random, silly and weird pictures that we're going to be selecting to be screwed up and put into Dodge's bin - the sillier the better!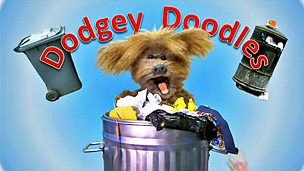 Send in your dodgy doodles for the CBBC Office.
Upload them here, post them to PO Box 9989, Salford, M5 0DP or e-mail them to cbbc@bbc.co.uk – labelling them Dodgy Doodles.
Make sure you tell us who you are and what your doodle is of! Doodles will be shown on TV every Sunday morning.