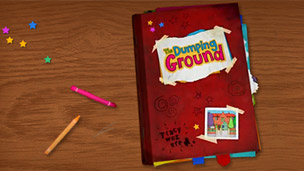 Oops! We can't load the video...
To view this content you must enable JavaScript in your browser and have the latest Flash plug-in installed. Please ask an adult for help if you cannot load the video.
Over the last few weeks, Dumping Ground fans have been helping to write a Dumping Ground short story.
We were so impressed with everyone's fantastic writing skills. We could only choose a few people's writing to include in the story but there were lots more that we really liked.
The finished story is below. You can also listen to a recording of the story, with voices from CBBC presenters, above.
Part 1 - by CBBC
The letter box spews its bundle onto the Dumping Ground floor. Carmen intercepts. An envelope with her name on it grabs her attention and, curious, she rips it open. As Carmen reads the letter inside, a faded photo flutters down to the floor. Carmen freezes. Suddenly, a blow to the head breaks her concentration.
She turns to see Johnny and Tyler, waiting for her to return their football. Furious, she removes her heel and uses it to burst the ball, before exiting. As the front door slams behind her, the letter and picture lay on the mat where Carmen dropped them.
Part 2 - by EmeraldMassiveToucan
"Unnecessary!" says Tyler crossly, picking up the burst football.
He glances down at the picture. And bursts out laughing.
"Have you seen this Johnny? This is hilarious!"
He hands the picture to Johnny, the ball forgotten.
Johnny gasps. "No wonder she's mad. What do we do with it?"
"Never mind that," says Tyler. "I want to meet the genius who took this picture! This is going to come in very handy."
"What is?" asks Mike, entering the room.
Tyler stuffs the picture into his pocket.
"Nothing," he says hurriedly.
Him and Johnny glance at each other and share a grin.
Part 3 - by SalmonSweetWriter
Carmen opens the door to the Dumping Ground after having calmed down. Johnny and Tyler are waiting by the door with grins on their faces.
"Look guys, I shouldn't have ruined your football. I was just slightly frustrated," she says sadly.
Johnny and Tyler exchange glances guiltily. In the background the sound of laughing children can be heard. Carmen smiles.
"What's going on? What's so funny?" she says, wanting to know. She tries to pass but the boys stand guard.
"Ummm.....you can't go in there.." Tyler exclaims.
"Why not?" she smiles and barges past.
Part 4 - by GingerWavyOstrich
Carmen runs outside and to her surprise, they all burst out laughing. "What? OH MY......" she trailed off.
"You look really cute dressed like that," Tee tells her.
"Give it BACK NOWW!!!" she shouts and snatches it out of Tee's hands. Carmen runs away, blinking back her tears.
Tee runs after her, determined to know what's going on.
"Carmen, who's that in the picture?" asks Tee.
"She is, well WAS, my friend, Rose."
"What happened?" says Tee.
"She did something, something that p..put me in here......"
Part 5 - by BlueVioletBongoHyena
"Listen Tee I , I don't want to talk about it , just , just leave me alone okay," says Carmen .
Carmen runs off , Tee following her. Carmen jumps on her bed fighting back tears.
"Listen Carmen," says Tee , "how did she have anything to do with you being put in care?"
"After my mum kept leaving me alone at home she, well she noticed, told her mum and her mum called social services, it's thanks to her I'm stuck in this dump , I don't know why she would think I would want to see this, it's from the time we went to the seaside together."
Carmen tears the picture in two halves, a tear ran down her face.
Part 6 - by SunstoneHyperPegasus
Carmen scrunches up the photo and throws it angrily at the wall. She lets out a tiny frustrated squeak, half sobbing and hiccuping.
She glares at Tee, "You're still here?"
"Well obviously silly! You're my best friend!" Tee soothes.
Carmen tosses her black hair over her shoulder and sighs.
"We used to be best friends Tee, best friends don't snitch on each other like that."
"Do you have her address?" Tee asks tentatively.
"Yes" Carmen says as she hands over the scrunched up page.
"Right," Tee began, "I think it's about time we paid Rose a visit."
Part 7 - by IndigoTennisActor
"Carmen are you sure this is a good idea?" asked Mike, swerving round a corner after some sat nav directions.
They were in the car on the way to Rose's house.
"Positive" Carmen replied. "Look, we're only... 2 1/2 miles away!"
She turned to face Tee, "I hope this all goes alright, I mean, I haven't seen her since I was put in care years ago and.."
"Everything will be fine" Tee said calmly. "Act normal, she's your friend".
As they arrived at Rose's house the door opened and out came Rose herself. She looked at Carmen and said, "Come in Carmen, I've been waiting years to see my BFF again".
Part 8 - by CyanDreamyHeather
Rose leads Carmen up to her bedroom.
"I found the picture and thought of you. I didn't know you'd be taken away. I tried to contact you for ages, why didn't you reply?"
Carmen shrugs, "I blamed you for putting me in care. I was mad and upset."
Rose puts her arm around her, "BFF's do what is best for one another. I wanted to do the right thing."
Carmen sighs, "I was so angry I forgot about all the good times we had together."
She laughs, "But those dresses, what were we thinking?"
Rose giggles as Tee enters the room, "What's so funny?"
Carmen smiles, "Rose my old BFF, meet Tee, my new BFF!"
Comments
The CBBC comment forums are open 7:30am to 8pm
Jump to comments pagination
Comment number

861.

CBBC




28th February 2014 - 10:43