18th January 2013
Wind Up merchants Sam and Mark joined us at CBBC HQ to answer your questions asked on the CBBC Messageboards about their hit show Sam and Mark's Big Friday Wind Up. 
Read on to find out who's funniest and what double act they would swap with for the day!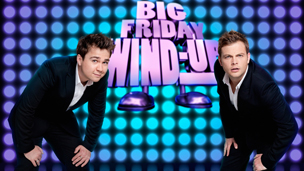 Sam:  Hi guys. Hope you're enjoying the show. We're here to answer a few of your questions. Ask away!
What is the best thing about being in a double act - LimeMoonMandarin
Mark: I suppose it's the banter we have between each other. The fact that we only have to learn half the lines each.
Who's the funniest person out of you two and can you prove it? - BlueChocolateBluebell
Sam: Mark is the funniest looking.
Mark: Ouch 
Sam: And I think that's proven that I'm the funniest.
Mark: Ha ha ha ha
Do you pull pranks on each other? And if so what ones do you do? - JetFunnyLemon
Sam: We prefer to do the wind-ups on other people.
Mark: We're too good at them to fall for each other's wind-ups.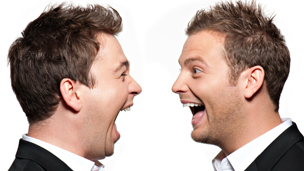 If you could swap places with another double act for the day who would it be and why? - NavyBlueCuriousTortoise
Mark: The two old guys from the muppets. The ones that shout at people from the balcony.
Sam: I'd like us to be the Hairy Bikers because they get to eat food all day.
Who is the most famous person you have ever met and how did you meet them? - BlueVioletSingingIguana
Sam: Mark's got Liam from One Direction's phone number in his phone.
Mark: And we've both met David Beckham a couple of times. We interviewed him for one of our Saturday morning shows. He's very handsome.
Who is your favourite One Direction member? - DiamondStarPotato
Sam: Zayn, I think. A lovely lad. They're all lovely lads of course, but I like Zayn.

Mark: Liam because he's from my neck of the woods.
What is your favourite wind up you have ever done? - QuartzCoolRockstar
Mark: I liked it when we had to dress up as super heros and we were doing a questionnaire on the different super heros and someone said he wanted to be Turtle Boy. That one's on today's show.
If you could choose any celebrity to come on the show, who would you pick? - RedGymnasticPuffin
Mark: That's a good question.
Sam: I'd like Simon Cowell on the show.
Mark: I'd like Usain Bolt to come on the show.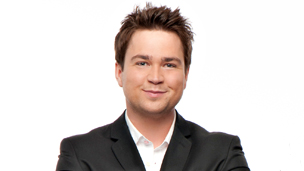 Sweets or chocolate? - StarstoneSewingSeal
Sam: Chocolate
Mark: Chocolate definitely.
 
Sam: You like sweets too though, I've seen you digging into the sweets.
Are you mates with any other awesome stars? - BrownChattyCabbage
Sam: Great name you have there! We're friends with the band Lawson.
Mark: We know The Wanted.
How did you decide if you guys were going to be called 
'Sam and Mark' or 'Mark and Sam'? - IndigoNeonTortoise
Sam: Sam and Mark rolls of the tonge better but Mark's pretty bitter about the whole thing.
What is the best thing about presenting? -CrystalChipsJellyfish
Sam: Being able to have a laugh in front of a camera.
Mark: And getting paid for it 
If you could be in any other CBBC show which one would it be and why? -TealRollingCherry
Sam and Mark: Horrible Histories!
Mark: It's absolutely fantastic. It makes me laugh every time I watch it.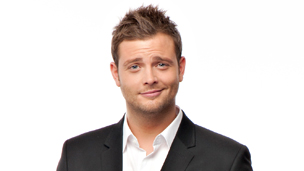 What is your favourite animal? -RubySnowyFlamingo
Sam: A gibbon
Mark: Giraffes because they can look everywhere to see who's coming
What's your favourite flavour of ice cream? - ApatiteTubaSinger
Sam: Mint choc chip
Mark: Cookies and cream
Which football team do you support? -BlackGymnasticBonobo
Sam: I'm not into football. I'm more of a badminton fan. 
Mark: I'm a massive Wolverhampton Wanderers fan.
Sam: For his sins
Mark: Alright!
Do you prefer singing or presenting? - DiamondGroovyRockstar
Sam: Both are fun but I personally prefer presenting as that's way more fun!
Mark: I love singing but I wasn't good enough at it so I went into presenting. You can be yourself more when you're presenting.
Sam: Have a lovely weekend! Go and make lots of snow men and snow dogs.
Mark: And keep it real!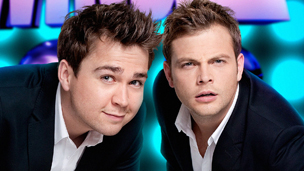 Related links
More Sam & Mark's Big Friday Wind-Up Articles