Vic Reeves, mystery man and star of  The Ministry of Curious Stuff, dropped into CBBC HQ to answer your questions from the CBBC Messageboards. If you are curious about Vic and his role within the Ministry then you are in the right place! Read on to get the random facts on whether dolphins could take over the world and why oranges are orange!

(Just to let you know, we didn't have whole of The Ministry team with us and we weren't be able to check the facts he gave us... so remember, we're in a mystical world of curious-ness and not everything is going to be true. It may just be a bit of fun!)


Vic: Welcome to The Ministry of Curious Stuff Webchat. Please commence your questions now...

What is the (strangest) animal that can sing? - ScarletHappyWriter

Vic: There's some kind of whistling fish I believe. Probably fresh water and probably called something like a tootle fish. Although I may be completely incorrect. Make your own up and have it delivered to me.
Will we be able to build a robot which everyone can buy and do all the work? - SunstoneCuriousSinger

Vic: Well, in the future there will probably be some kind of robotic implant that you can put in one of your brothers and sisters and get them to follow your every command. I'm in the process of developing one, although my sister doesn't know about it....
(Check out the Robot Animation from The Ministry which looks at whether this is possible!)
You are so random. On a scale of 1-10 how random do you think you are? - BrownHoppingFrog
Vic: Random's the new thing, isn't it? Oooh, that's tricky. On a scale of one to ten? TEN THOUSAND.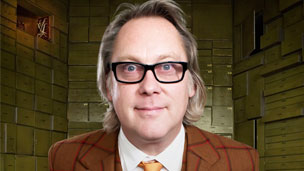 Why does Chocolate taste so chocolaty and delicious??? - PinkKeyboardMaster
Vic: Well, Lau, the first thing to say is: because it's chocolate! It's the chocolate enzymes that are harvested from door mice when they least expect it, and the shavings are combined with an adhesive, put in a wrapper, and sent out to confectioners worldwide. Yummy.
Can kids rule the next planet we discover? - NavyBlueKeyboardIguana
Vic: Under no circumstances. I will be the ruler of that planet, and all the children will be at my beheft. Although I promise to treat you all very kindly.
Do animals have their own language? - IndigoDrumDove
Vic: Dogs bark, ducks quack, cows moo. What do you think?
Why are clocks invented??? - SunstoneLightningJellyfish

Vic: Well, nice name to start with. Now then... well... they were invented so that the dinosaurs knew what time they had to go to bed. Unfortunately, alarm clocks came a lot later, so they never woke up.
My curious question is-will the sea ever shrink? If it does shring it wont be fair for the sea creatures. - CreamScalyPrincess
Vic: Most things either shrink or expand. The sea is no different. It shrinks and expands on a twice daily basis, and is known as the tide. Don't worry, the sea creatures will eventually sprout legs and walk on land. Like horses had to.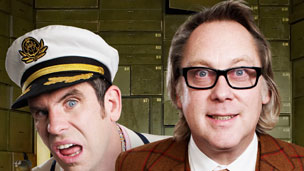 Whats your favorite sport? - WhiteSoftElephant
Vic: Egg balancing. I'm currently the world champion at balancing 250 boiled eggs on my head.
Why do we have different coloured hair? - TaupePoloFairy
Vic: Well, it's some kind of filing system that we haven't quite got to the bottom of yet.
Can dogs learn to speak like parrots? P.S love the show!! - LemonCheesyAnteater
Vic: There was a dog that said 'sausages' once wasn't there, and there was a dog the other side of the world who said 'chips'. It's a shame they never got together.
What is the funniest name in history? (including Victorian names?) - StarstoneFunkyReindeer
Vic: There is a man called Mr Now Look Here! Also, Captain Length-Width. 
What food is most likely to make u sick? - OnyxMoonTulip
Vic: Sick, in the first place. Never eat sick. That will make you sick.
Do you ever have a question that you need answering yourself or do you know everything! - ScarletKiteMeerkat
Vic: The question I ask myself mostly is 'Where am I?' and there's never anyone there to answer me. Because I live on the moon. Having said that, I know where I am. So disregard that question and answer!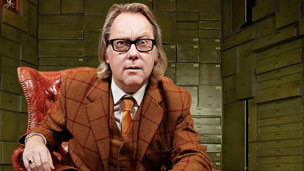 What has been the most unforgettable thing that you have done so far? - IndigoLittlePanther
Vic: I've forgotten. But I'm sure it was very exciting.
Who would win out of a race a man or a cat? - TealBrainyQueen  
Vic: Well, the man. If he was in a Formula One racing car. If he was on foot, then it would be the cat. And if the cat was in a Forumla One racing car, then the man would still win. Because cats can't reach the pedals.
My question is could dolphins take over the world? - RedVioletTeenyStarfish
Vic: Some say dolphins have taken over the world and live in huge glass cathedrals 'neath the waves. Using their super intellegence, they command our every movement. But they can't fool me...
Is there any dinosaurs alive today?If so which dinosaur is it? - CoralMegaGirl
Vic: The triceratops lives yet. And dwells within an amazing labyrinth of tunnels beneath your house. But they are quite cuddly.
What is the most shocking discovery you've come across? - CrystalRainbowPorpoise

Vic: Electricity. It's as simple as that. Enjoy it, but never touch.
How many times a day do you reckon an elephant goes to the toilet? - DiamondHyperTomato
Vic: Only once per day. But the toilets that they use are enormous. And the toilet rolls are about 100 miles long.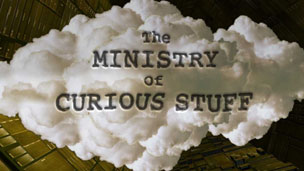 Why are oranges orange? - BlackHockeyFlamingo 
 
Vic: Well, if they weren't orange, they wouldn't be called oranges. They'd probably be called purples.
Can A Bananana Be Come King/Queen? (Depens If Female Or Male)- GarnetFunnyGhost
Vic: Yes, the King Banana is a good friend of mine. And he's still looking for a queen. So if there are any queen bananas out there, please get in touch. He's getting lonely.
Vic: Thank you answer-seekers. Remember - the truth is out there. And not necessarily here.

Thank you all very much.

GOODBYE!
Thanks to everyone who sent in a question. Don't forget to keep an eye on the CBBC Messageboards for details of our next interview with your favourite stars!
Related links
More The Ministry of Curious Stuff Articles