4th January 2013
Chris Slater (who plays Frank) and Jessica Revell (who plays Elektra) in The Dumping Ground joined us to answer your questions from the CBBC Messageboards.
Read on to find out who Jess thinks is the funniest character, what were the pair's favourite subjects at school and who giggles the most when filming!
Chris and Jess: Hey guys this is Chris Slater (Frank) and Jess Revell (Elektra) here to answer your questions so here we go!!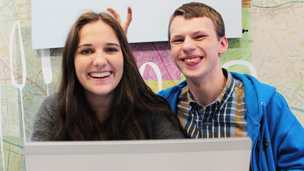 What can we expect in the The Dumping Ground? Are there any shockers?
DiamondGroovyRockstar
Jess: You will have to watch and see, there is a grenade involved!
Chris: ....Yeah it literally starts with a big bang!!
In real life, whose room in The Dumping Ground would you want?
SepiaBigKitten
Chris: I would want Rick's bedroom because it's got the coolest equipment and a guitar.
Jess: Same here, it's wicked!!
Are you anything like your characters?
CrystalOcarinaLlama
Jess: YES!! Lol, no. I like to think I'm much nicer.
Chris: .... except you're not haha. I am a lot like my character, infact I dont even need to act!!
If you could pick any celebrity to guest star on The Dumping Ground, who would it be and why? 
LimeChattyChimp
Chris: Helena Bonham Carter (from Alice in Wonderland), she's just so cool and amazing at acting.
Jess: Jennifer Lawrence (From The Hunger Games) because I love her.
Jess - Who would you say is the funniest character in The Dumping Ground?
VioletGiantKestrel
Jess: Gus 'cause he doesn't mean to be, which makes it ten times funnier!
Since the show has changed... have your characters changed too?
DiamondRaindropApple
Chris: Frank has got older and the story lines prove that with the different issues they tackle.
Jess: Surprisingly Elektra shows her softer side, only a little though.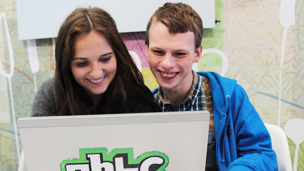 If you could play one of the other characters from The Dumping Ground, who would it be and why?
GreyFloweryChimp
Chris: Elektra because she's the bad one of the group and I think that would be fun to play.
Jess: Sorry Chris, mine's not Frank. Gus, because he's the most interesting character.
How was it filming The Dumping Ground without Dani?
GoldGlitteryOrchid
Jess: It was really difficult because everyone was back apart from her, so you could tell there was a missing part to the group.
Chris: Dani was always someone you could talk to and not having her there was difficult.
Do you have any tips for aspiring actors and actresses, as I want to be one?
PeachWinteryUnicorn
Jess: Just have fun, enjoy whatever character you play and make it your own!
Chris - You are an inspiration to my friends who have Cerebral Palsy as we love acting and you have proved disability should not affect our love for acting, thank you! My question is, has the show inspired you in any way?
IndigoCrazyPeach
Chris: I think it's the people on the show that inspire me because of the support they all give and it's a loving atmosphere.
If you were stranded on a desert island, what 3 items would you take?
IndigoCookingChipmunk
Chris: A boat, food and Harry Potter books.
Jess: My iPod, infinite amounts of food and my best friend.
Jess - Why does Elektra have blue highlights in her hair - is there a story behind them or are they just for fun?
CoralPoshKid
Jess: The blue highlights are extentions which means I can take them out at the end of a day of filming (thankfully), i don't think there is much of a story behind them. Elektra just loves blue so much she wanted some in her hair.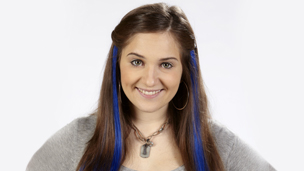 What were both of your favourite subjects at school?
LavenderJokeyDragon
Jess: I liked history.
Chris: I liked PE.
How old were you when you started acting?
YellowSquashBaboon
Chris: I was 6. I was in a Wizard of Oz play. I did quite a weird version of the Wizard of Oz.
Jess: The same, 5 or 6. I think my first thing was a nativity play.
How long does it take to make 1 episode?
CrimsonCupcakeTurkey
Jess: A week. We don't film all the episodes in order though.
Chris: Sometimes that can be confusing.
If you could be any animal, what animal would you be and what is your favourite colour?
SilverOriginalBat
Jess: My favourite colour is blue like Elektra and my favourite animal is a tiger.
Chris: My favourite colour is purple and I would like to be a leopard, because of the spots. I'd liked to be called Spot the Leopard.
Chris - Do you support Manchester United in real life?
JadeTitchyPenguin
Chris: I do, yes!
If you could have any super power what would it be and why?
PearlMegaTiger
Jess: To control time. To fast-forward and pause stuff.
Chris: To be invisible!
Chris - Where you surprised when you got the job because you have Cerebral Palsy? 
GlassNoseyApricot
Chris: I was surprised that I got the job in general. They were looking for a character with Cerebral Palsy and I somehow fitted the bill.
Is it really hard learning your lines off by heart or is it quite easy?
GingerRoundersWallaby
Jess: We're the two worst people at learning our lines! We're so bad. At the start it was really hard but by the end of 13 weeks filming you're just used to it.
Chris: If we don't learn the lines we normally ad lib and somehow that gets us through.
Who giggles the most when you are shooting a scene?
JadeTrumpetMango
Jess: Chris! Him and Kay (who plays Gina) together are the worst! Chris has to walk outside sometimes to cool off.
Chris: Yeah, I agree.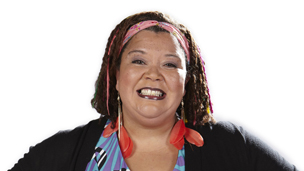 Jess - I'm a big fan of Elektra's AMAZING shoes and hair!!! If you as yourself met Elektra, would you be friends with her?
BlueCoolButterfly
Jess: No. I think we're very competitive so I don't think we'd get on.
What is your favourite food?
AmethystTubaGirl
Jess: Fish and chips for me. I think Chris likes crisp sandwiches. I saw him eating one once.
Chris: Yeah, I like a crisp sandwich.
Are there going to be new characters in the Dumping Ground? If there is can you please say who?
AmaranthBanjoTuatara
Jess: There are two. The first one you meet in the first episode - Faith.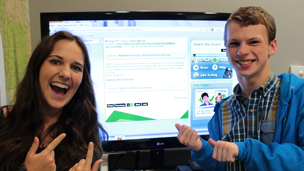 Jess: I'm sorry we didn't get to answer all your questions. You sent in so many (969 of them!) and thank you for sending them. We hope you like the new series.
Chris: Thank you to FireOpalGlitteryFoldee for your message. I found it really touching.
Jess: Bye guys!!
Related links
More The Dumping Ground Articles