CBBC Music:
Ryan O'Shaughnessy: Top Tips for Writing a Song

He struck a chord (literally) with the UK on Britain's Got Talent last year with his beautiful song, "No Name" and a year on he's releasing his very first mini album! Ryan O'Shaughnessy dropped CBBC Music a line to give us his 5 top tips on how to write a great song.
1. Listen to music – "It might sound obvious, but listening to different artists will help you find out what you like and inspire you."
2. Find your style - "Think about the style of music (i.e. pop, rock) or the lyrics and work out what you like about it. I like romantic songs but songs can be about anything from day-to-day life."
3. Write the lyrics – "Find something that inspires you. If you think of any good words that fit in with what you want your song to be about, write them down. I used to write poetry – I was never that good at English, but I am quite good at twisting words together. A song doesn't have to rhyme, but I rhyme a lot in my lyrics."
4. Get the Rhythm – "Get your instrument or just think of a melody and put it together with your lyrics. It's all about the rhythm. Once you have a good rhythm it's quite easy to fit it to lyrics."
5. Perform it! – "If you write a song, it's only written down. It's not a song until you perform it to an audience like your family or friends. They'll always be supportive, even if you're nervous."
Thanks Ryan! Any final words of wisdom for all the budding singer/songwriters out there?
"Stay true to yourself – if you have a gut feeling then just do it. Don't let other people tell you that you shouldn't do it. I've been put down a lot, people saying I wasn't good enough. But if you think in your heart that something is worth doing, just do it!"
Ryan's mini-album named Ryan O'Shaughnessy is out on August 13th 2012 and includes the tracks "No Name" and "First Kiss" as performed on Britain's Got Talent.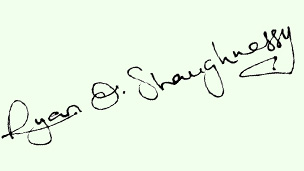 Related links